Who of you by worrying can add a single hour to his life?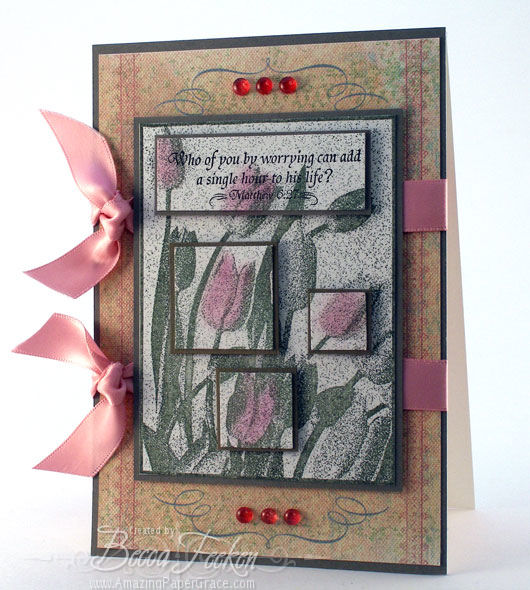 I love the simplicity of this verse; it's one that rewinds through my mind many times over the course of a week. The small stamp is another that has a permanent place on my desktop to remind me of the these very words that bless me so often.
This card is my monthly entry into the Divine Design Challenge. Several bloggers have made a commitment to offer a card on the 8th of each month that includes a scripture that has special meaning to them. You can read more about the challenge on Lori Craig's blog here.
Isn't this stamp just awesome? Yep, I've had it forever and this is my very first time ever stamping with it. Wow, the stamp did all the work for me – all I had to do was to color in some of the tulip heads with burgundy chalk.
Supplies:
Stamps: Tulips – Outline Stame Company; Sentimenr – Stampabilities
Paper: Bazzill, K&Co. – Margo
Ink: SU Always Artichoke; Brilliance Black
Accessories: Dew Drops, Ribbon