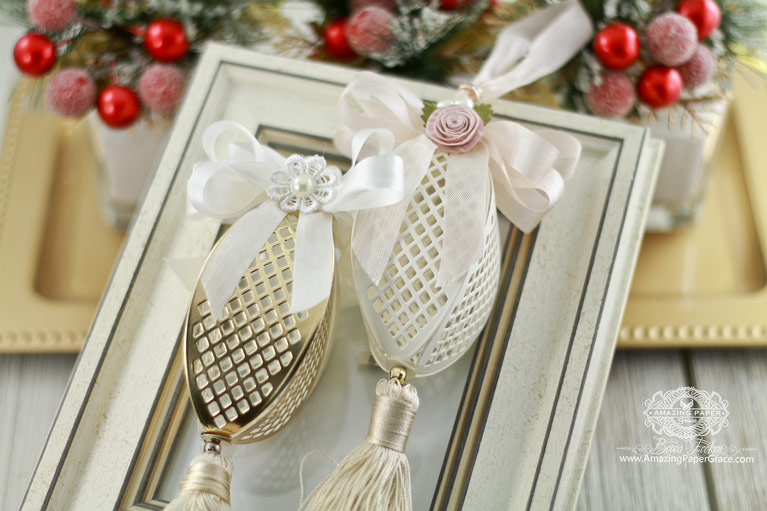 Good morning sweet friends!  Today I thought I would share some easy to make die cut ornaments using my Tiered Multiloop Bows Die, that I had not shared here yet.  I'll actually be making a few of these this weekend – here's why.  I have one tree decorated but in a quick stop yesterday, found real glass ornaments in the vintage colors that I am always looking for.   At the top of my favorite colors is a vintage pink that is a dusty rose – I look for it in paper, I look for it in ribbon, I look for it, but it is hard to find.  It was my luck to find (on clearance) the dusty rose and vintage tan – which is a creamy off white and a darker rose.  Here is a peek :-)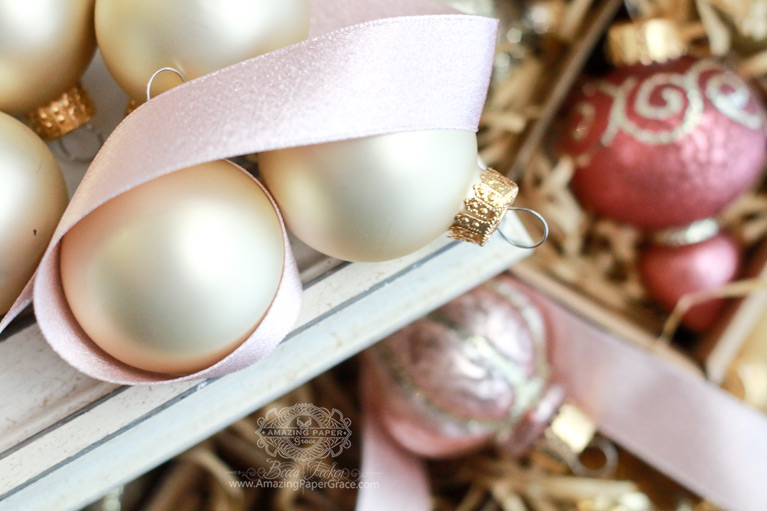 I know it's crazy – less than two weeks until Christmas, but I'm going to rework my second tree.  The ornaments that I made with the Bow die – in these colors will actually fit.  At any rate, let me show you how easy these die cut ornaments are :-) Also stay tuned for Creative Team Inspiration!




These die cut ornaments actually go together very quickly, if you are like me, it will take you longer to pick your embellishments.  Keep it simple and you'll be able move though multiples quickly!
How to Assemble Your Simple Die Cut Ornaments:



Gather two brads.  Cut the largest Tiered Multiloop Piece with lattice inlay 4 times.  Use a large brad to secure four end loops.





Gather the loops on the other end by putting opposing ends over the tails of the brad – facing inward.  Spread the tails of the brad.



Here's what your ornament will look like.



Embellish by adding two double loop bows, two flowers, a button with  ribbon looped through it along with a tassel.  Hot glue one bow to the top front about 1/4″ from the top.  Hide the knot of the bow by hot gluing a flower in front of it.   Mirror those embellishments on the back side.  Glue decorative button on top.  Glue tassel to the bottom.   It's that easy.
Although we are only using four pieces for our ornaments today, I wanted to show you that with the smaller piece, you can get a full globe using six pieces.  This will produce a smaller ornament! As a side note, it's a great idea to hang a tassel or some beads on the bottom as they give the ornament stability and will make it hang straight on your tree.



Here is some sweet inspiration from the Creative Team to tide you over!!
Have a peek at what Jo Ferriby did with Spellbinders Breanna's Corset Die in her remarkable card – many more pictures on her blog so that you can examine closely.  Followed up by a pristine, sparkly card by Melissa Bove – it so reminds me of newly fallen snow!  She used  Annabelle's Trousseau Layering Frame Medium Etched Dies.  And then I love the whimsy of a sweet box by Teresa Horner using Spellbinders Mini Card Booklet Gift Box Dies, Spellbinders Gossamer Knot Ensemble Dies, and Spellbinders Francesca Label Dies.