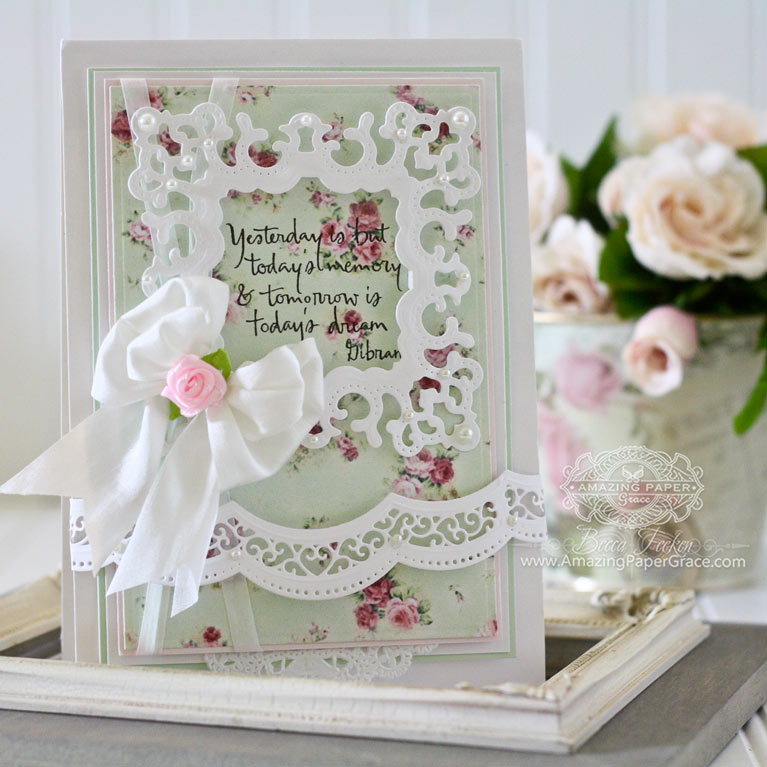 Good afternoon friends!  Please forgive the delay in posting, I was tied up this morning but Day of Giving Friday is never forgotten and I have a feminine card to give away.  I hope you are having a wonderful day and making plans for the holiday to come!  Other than deadlines, I've been working in my craft room this week.  I got so frustrated by tripping over piles of papers and stacks of things 'to-do' that I had to make sense of the chaos.  Now please know, my room is a working room, meaning not so much for show, but if I get further along and am feeling brave, I may indeed post some pictures.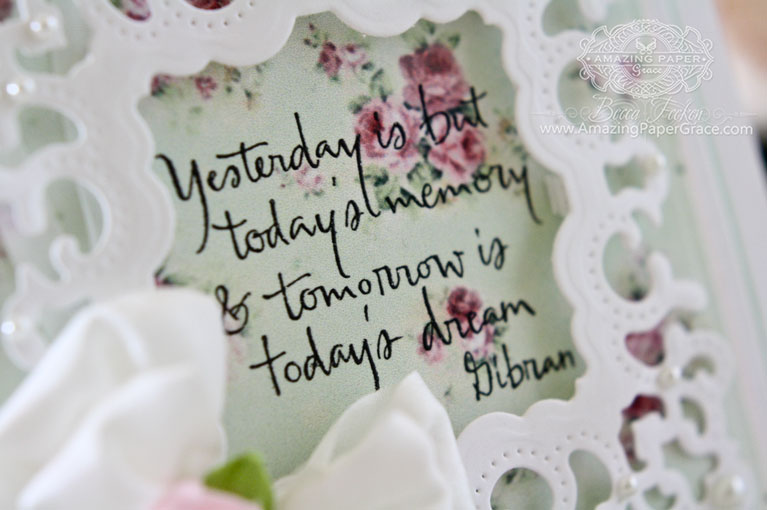 In addition to the craft room I moved an armoire into the dining room, it's a scrapbooking armoire and holds all the pictures that for years and years I was going to put in scrapbooks and complete with captions.  Here's a place I sit every morning with my coffee while the rays of sun flow in – I thought the new location would entice me to spend more time going through the pictures.   I made a wonderful find in that armoire – it's 'the' box.  'The' box where over time I've tucked everything that has ever meant anything to me and 'the' box that I hope everyone has tucked away.  It's a box of memories and I didn't even remember what was in that box.  I spied love letters and silly letters from my kids during a time their minds believed anything was possible.  It is safe and sound; one day when I'm feeling brave (again) I'll crack open the letters and let the dreams and love spill out.
So on to the card.  I used patterned paper from one of my favorite Etsy shops linked below.  I stamped my sentiment directly on the pattern cardstock and framed it with Spellbinders Ornate Squares.  On the bottom I made a frilly sash from Spellbinders A2 Scallop Border One.  That's it!
About Day of Giving Friday
As a courtesy to new readers – welcome and hugs if you've been a  regular!  Just to bring you up to speed, every Friday it's my pleasure to give away a card.   The card goes to a randomly picked reader (worldwide) who leaves a comment in our conversation. Want to know more about Day of Giving, here's a link to my FAQ's just check out #11.
As I moved and rearranged things I thought needed more attention in my life, I hate that putting my pictures and memories in order became a 'someday' project.  The documentation work that I'm talking about is important, if we don't do it, who will?  I'm ever reminded of the someday projects because I'm mindful that sometimes if they are put off, they never happen. For your comment today – What's the next 'someday' project on your list?


Rubber Stamps: Wordsworth – Life Affirming
Craft Paper: Amuse – Pistaschio, ByDigital – Romantic Paper Roses, Georgia Pacific – White, EK Success Pink Viburnum
Ink:  Versafine Onyx Black, Ranger Super Fine Detail Embossing Powder
Accessories:  Spellbinders A2 Scallop Border One, Spellbinders Ornate Squares, May Arts Silk Ribbon, Recollections Pearls, doily, ribbon flower

By the way, it seems that I forgot to post some winners – it totally slipped by me and I thought this was done.  It is now done and winners for all recent cards have been posted.  You can check for your name HERE.  Have a great weekend!