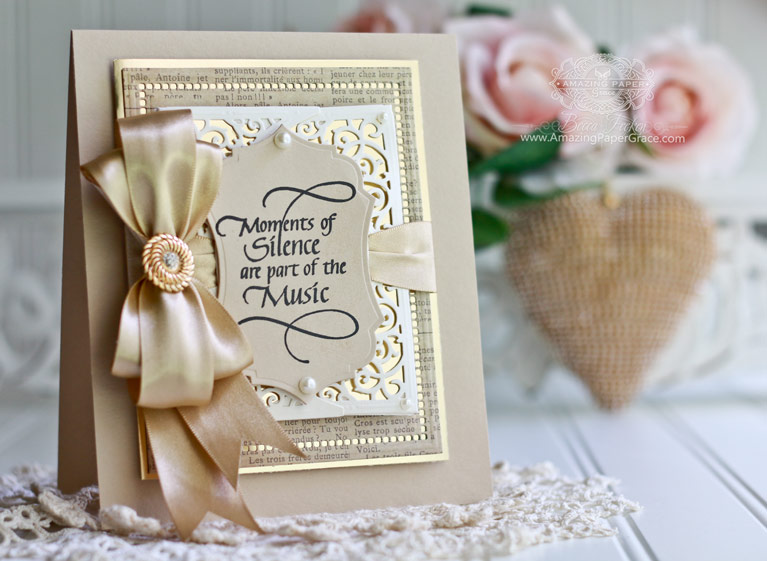 Good morning sweet friends I can't tell you how grateful I am for your support on my new release on June 13th.  We were tickled to introduce the Venise Lace Collection and the creative team had exquisite samples to show.  Don't forget, you have the rest of the day to leave a comment on my June 13 post and the post of each creative team member to win a die from my Vintage Elegance Collection.  It feels great to have that deadline behind us and I find myself up before 5am and I'm not a morning person, traditionally.  Not sure why I'm not sleeping but if it is worry, I have found the answer for that – creating.  I've simply been playing around with dies and catching up on emails, Instagram (my current go-to for inspiration) and Facebook at those wee hours.  By the way if you have a question on what I've used on a card, try me on Instagram – with all the notifications – it's much quicker and easier than email.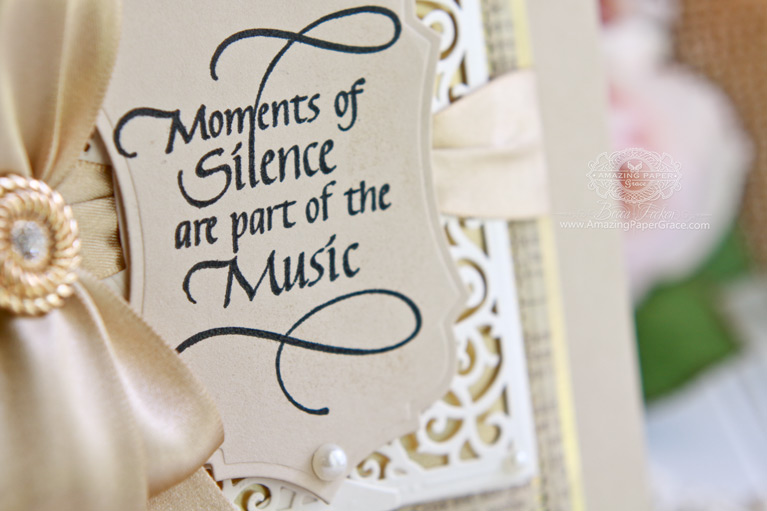 For Day of Giving Friday I have a card with a wonderful new Quietfire Design sentiment called Moments of Silence,  that fit the bill for my early morning creative session.  I was loving every moment of silence – no radio, no tv, just me and my thoughts – magical.  I thought it a perfect sentiment to share today along with a card that uses two of the new dies just introduced.    These are two of my favorites Spellbinders S5-308 Hemstitch Squares and Spellbinders S4-789 Francesca Label – they are classic and go with just about everything in my stash.  Plus I pulled out and older Favorite Spellbinders S4-505 Swirl Bliss
Instructions:
Start out with a card base 5-1/2″ wide x 6-1/2″ tall.
Add a panel cut with the largest two Hemstitch dies and matted with gold slightly larger than the hemstitch panel.
*Tentatively adhere to the base with double stacked foam tape – lets call this Layer 1
Cut and Emboss two Swirl Bliss pockets – tape on the back so that the pocket retains its shape.
Insert a piece of gold paper (3-1/2″ wide by 4-1/8″ tall) by placing a pocket on left edge and right edge and push together to overlap in the middle – lets call this Layer 2
Run a piece of ribbon the pockets threading the ribbon through the triangle holes in the pockets.
Adhere pockets to Layer 1 with double stacked foam tape and secure ribbon to the back of Layer 1
**Permanently adhere Layer 1 to the card base.
Cut and emboss Francesca Label, stamp with sentiment and attach to Layer 2 with a triple stack of foam tape.
Add bow to left hand side and pearls to embellish.
*(When I tentatively adhere something, I fold back the liner tape a bit on two pieces and let a small amount of adhesive engage because I know the layer needs to be picked back up)
**(When I permanently adhere something, I remove all the liner tape and engage knowing it should not be taken back apart)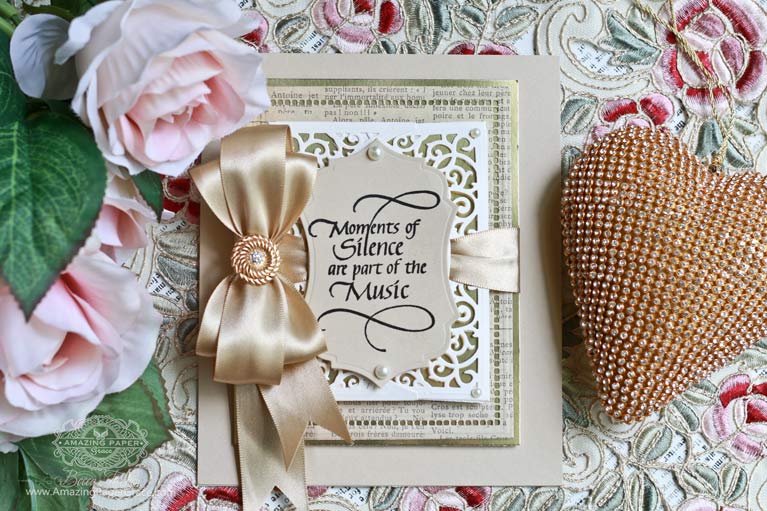 For new readers, every Friday it's my pleasure to give away a card. The card goes t(When o a randomly picked reader (worldwide) who leaves a comment in our conversation. Want to know more about Day of Giving, here's a link to my FAQ's just check out #11. You can check the list of winners HERE!  (I'll be updating the winner's list soon).
I hope you will indulge me to answer the question this week. I've had a recent conversation with a reader who was a beginner and was lost making a card – your answer will help me judge how to taylor upcoming posts. Please don't be shy – I want you to take credit for your accomplishments – if you've been able to follow my instructions for some time – you are probably not a beginner. For your comment: What do you consider your card making level – Beginner, Intermediate or Expert?
Stamps: Quietfire Design – Moments of Silence
Paper:  Neenah Classic Crest – Natural White – Cover – 80lb smooth, Gold Poster Board, My Minds Eye
Ink: Versafine Onyx Black Ink and Ranger Clear Detail Embossing Powder
Accessories:   Spellbinders S5-308 Hemstitch Squares, Spellbinders S4-789 Francesca Label , Spellbinders S4-505 Swirl Bliss PL-001 Platinum™  Die Cutting And Embossing Machine with 8.5″ Platform, Double Sided Satin Ribbon, The Paper Studio – Pearls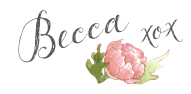 Have a great weekend "Gracelets"!!  :-)