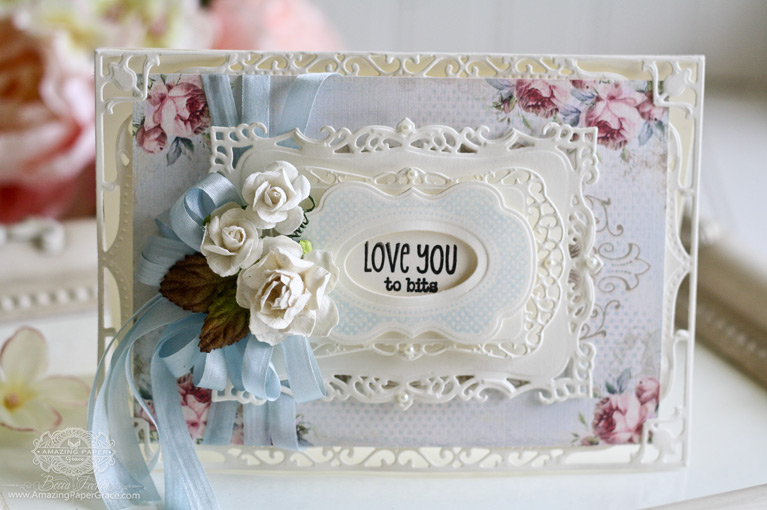 Good morning friends!  Happy Friday!  I just want to say thanks for your kind remarks about my video, it was lots of fun discovering my new little tool and I knew you all would appreciate my frugal approach to flower making.  I have more flowers to share in the near future and now I'll smile every time I share them.  It's been a busy week and I've been doing a bit of behind the scenes work to revamp and update some of the things I work with on a daily basis.  Because I'm always learning and researching, progress is slow but I'll get there.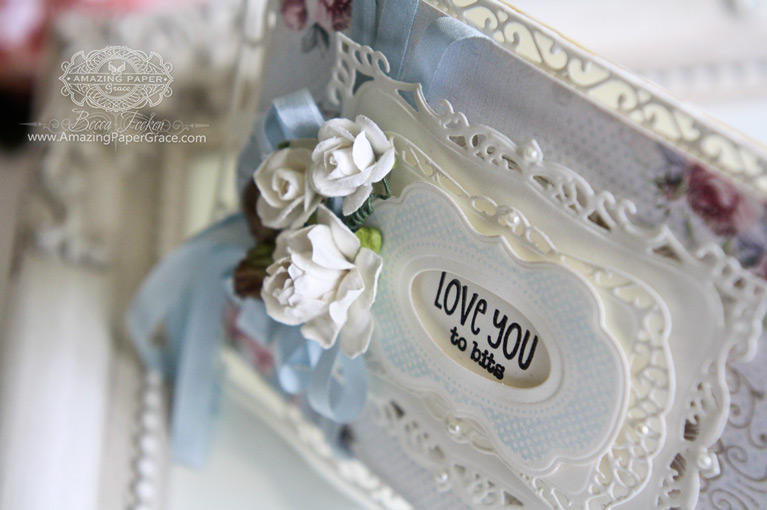 Back on Track
I'm feeling much better and so sorry I  missed out last Friday.  Today is Day of Giving Friday and I pulled a blue layered card from the stash with a tiny sweet sentiment.  Using a full sized 5 x 7″ die is a quick and easy way to square away a card front using a Hinged Card Bases.  Add some layers, add some sentiments and you have a complete card – my favorite kind of getting it done.  For this card I've used Spellbinders 5 x 7 Elegant Labels Four.  On top I've layered Spellbinders Decorative Labels Eight.    My sentiment is stamped on Spellbinders Timeless Rectangles and the final layer is Spellbinders Labels Fourteen (no longer available) but a wonderful substitute is Spellbinders Labels Eighteen
About Day of Giving Friday
I have tons of cards stashed away and last year I decided to share them with readers rather than let them sit and age.  It's a great review of some of the tools we might not have used in a little bit.  It happens every Friday, where I give away a card to a randomly picked reader who leaves a comment in our conversation about a thought provoking prompt I dream up to discuss – here's a link to my FAQ's just check out #11.     For your comment today – This word won't mean anything to the youngsters, but did you ever have a pen pal and what was your best memory of that sweet exchange?


Have a great weekend friends!  I'm tickled because this weekend I have a date at the craft table.  I hope you have some wonderful things going on!!