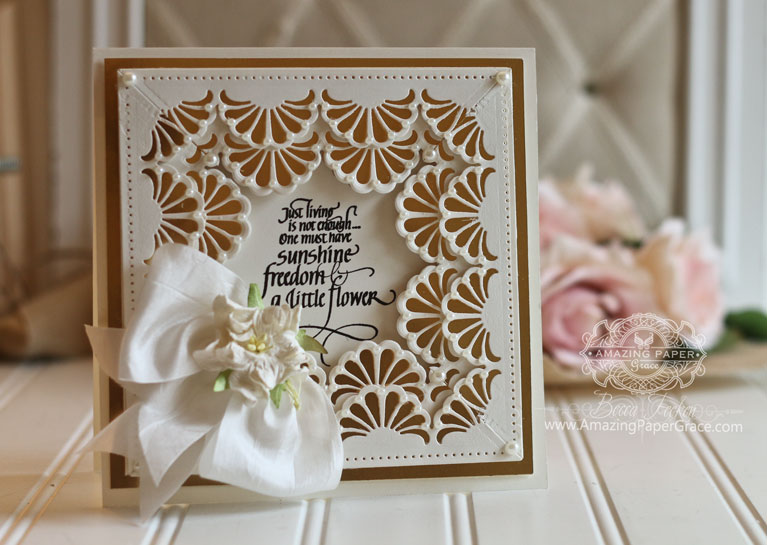 Happy Holidays!  I'm peeking in just in time for the last Day of Giving Friday of 2016.  Shhh….I have a house full of company and have stolen away a couple of times today to get this finished up and online.  It's been an amazing holiday and although it wasn't planned, I was able to see all three of my kids.  My two daughters came home and decided they couldn't bear not to see their brother (who could not get time off) so we piled in the car and drove across the state to spend Christmas with him.   It was impulsive but well worth it, even though it was for one day.   What a blessing :-)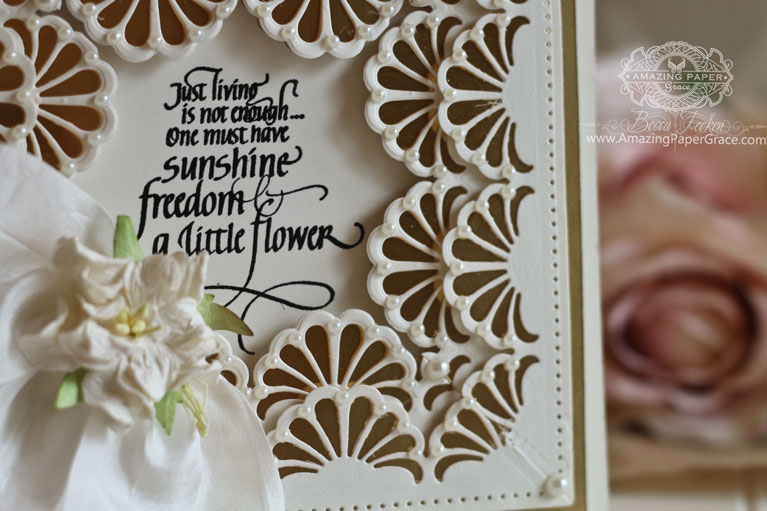 It has been a whirlwind since November – isn't that the way it is for everyone?  Today I'm sharing a card made with the Graceful Frame Maker and one of my new borders.  I've received lots of question and this is the best place to share some updates for people who are looking for these dies.  Currently, the collections are available at Create and Craft USA and Create and Craft UK – some of the dies are sold out but pop over to the respective sites and you'll be able to see what's still available.  If you want to get your hands on to these sets, Create and Craft has the best current availability.
The dies will be shown at CHA in January so definitely encourage your local store to pick them up; they should be available in the Spellbinders Online Store in March 2017 and if you were unable to get the Graceful Frame Maker in the US or see any of the others that have sold out,  you can put them on your wishlist  in the Spellbinders store right now.
My card today has been on my workbench waiting for a bow for several weeks – I was playing around and decided to layer two mitered borders onto one card using Spellbinders Graceful Fans Border and it was cut using the Spellbinders Graceful 6 x 6 Frame Maker.  The way the dies are configured, it's easy to cut the four borders where each fan center is cut then follow up by cutting the outline shape to put behind the fans for a punch of color.   I'm using a lovely Quietfire Design sentiment (Just Living Is Not Enough) that works wonderfully in a square frame!
About Day of Giving Friday
For new readers, every Friday it's my pleasure to give away a card.   The card goes to a randomly picked reader (worldwide) who leaves a comment in our conversation. Want to know more about Day of Giving, here's a link to my FAQ's just check out #11.  You can check to see if your name is on the list of winners HERE!  For your comment:  What's one thing you want to ditch and one thing you want to pick up in 2017?



Stamps:  Quietfire Design – Just Living Is Not Enough
Craft Paper:  Neenah Classic Crest – Solar White – Cover – 80lb smooth, The Fine Touch Gold Poster Board
Ink:  Versafine Onyx Black  and Clear Embossing Powder 
Accessories:  Spellbinders Graceful Fans Border (Spellbinders)  Spellbinders Graceful 6 x 6 Frame Maker (Spellbinders), Recollection Pearls, mulberry flower

Have a Happy, Happy New Year!!