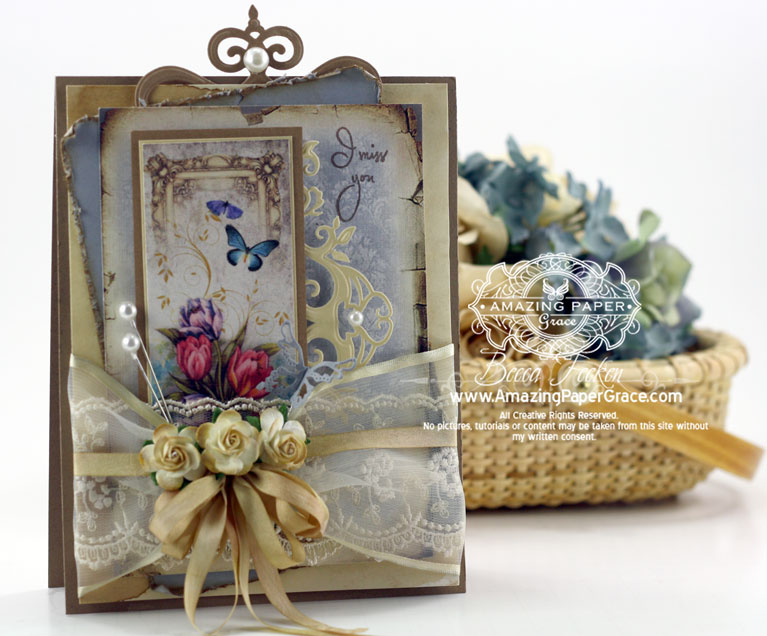 I'm tickled to seque into the first Day of Giving Friday with another card.  You all definitely inspired me to keep this going on a weekly basis and resource-wise, it's very manageable for me.   I have lots of cards to giveaway and think it's befitting for the folks who peek in quite often to have a shot at those cards.  The loveliest thing happened during July was that I felt like I went away to a retreat and met you all.  I could track comments from day to day and see your personalities.   I have something else I'm cooking up but have been asking my friends to help me get my mind around the administering to make sure it's something I can handle.  Stay tuned – it's something that goes hand in hand with saving the handwritten word one day at a time.  In the meantime, today I'm showing you a a shabby card I made that will go out to one lucky winner.  Just leave a comment on this post and I'll pick a winner tomorrow.  If you are new to my blog, you can read about Day of Giving Friday on my FAQ List at #11.
Day of Giving Friday Comment:  What is the biggest lesson you've learned about crafting? 

Stamps: Clearly Wordsworth – Love
Paper: Kraft Paper, Neenah Classic Crest Natural White Smooth 80 lb; ByDigitalPaper – Stories Floral, Antique Paper 3
Ink: Amuse – French Roast
Accessories: Spellbinders Twisted Metal Tags and Accents, Spellbinders Flourish Trim, Spellbinders Jewel Flower and Flourishes, May Arts Silk Ribbon, Mulberry Roses, Lace, Organdy Ribbon
Thanks for stopping by, I'll see you soon!!