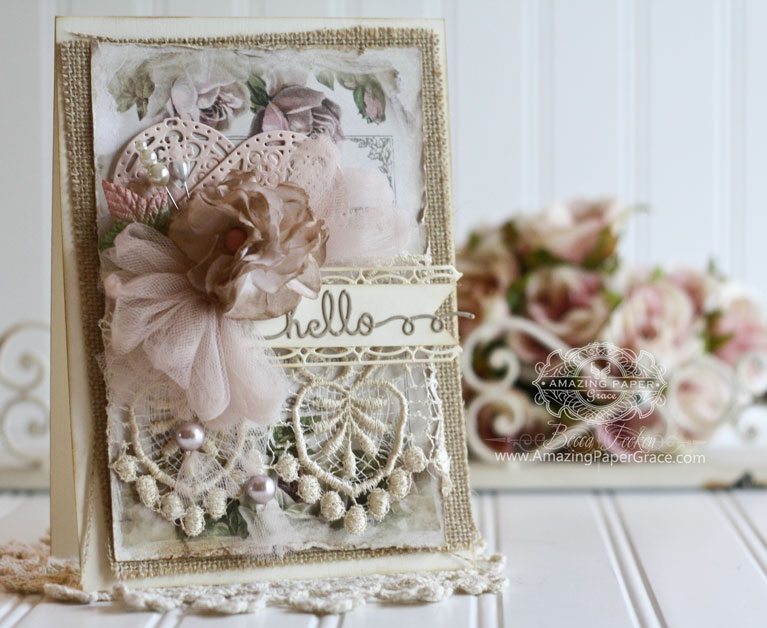 Hi friends, I guess you could say better late than never.  My life is currently being ruled by whether I have internet or not; today was not.  I'm learning my lesson, I had everything ready to go but never schedule posts and it certainly caught up with me today.   No worries, I know you all cruise by when you have a second and I thank you.  Today is Day of Giving Friday and I have a new card to share.  Recently I've leaned more to the shabby side and it's relatively easy to do with inspiration.  I had this lovely piece of vintage looking lace that I simply wanted to build a card around and I love the texture of burlap :-)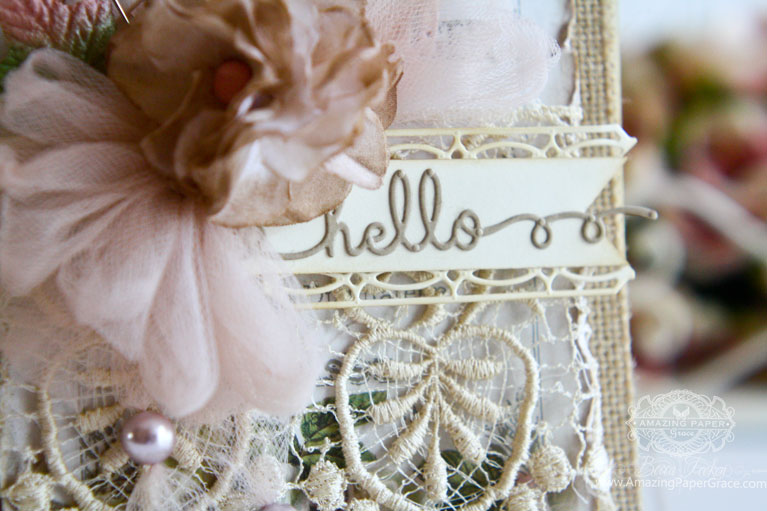 Because there is so much detail in the background, I kept die cuts to a minimum, using simply enough to get a message across.  One of my favorite thing to do is to cut my dies and use the edges as embellishment.  I used one of the tags from Spellbinders Renaissance Tags One to add some interest behind the flowers and I cut up edges from  Spellbinders Astoria Decorative Elements to decorate my hand cut pennant and finished up with the hello from Spellbinders Sentiments 5
About Day of Giving Friday
For new readers, every Friday it's my pleasure to give away a card.   The card goes to a randomly picked reader (worldwide) who leaves a comment in our conversation. Want to know more about Day of Giving, here's a link to my FAQ's just check out #11.  You can check to see if your name is on the list of winners HERE – our winners list is up to date!  For your comment:  What objects do you look to for inspiration in your papercrafting.


Rubber Stamps:  None
Craft Paper:  Neenah Classic Crest – Natural White – Cover – 80lb smooth, Vintage paper from my stash
Ink:   None
Accessories:  Spellbinders Renaissance Tags One,  Spellbinders Astoria Decorative Elements, Spellbinders Sentiments 5, Burlap (The Paper Studio), Tulle (Joanns), Velvet Leaf (Prima), Fabric Flower Petals (Michaels), Darice Pearls, Lace from my stash

Thanks so much for taking a second to stop by – I sincerely appreciate it!  Stay safe friends!