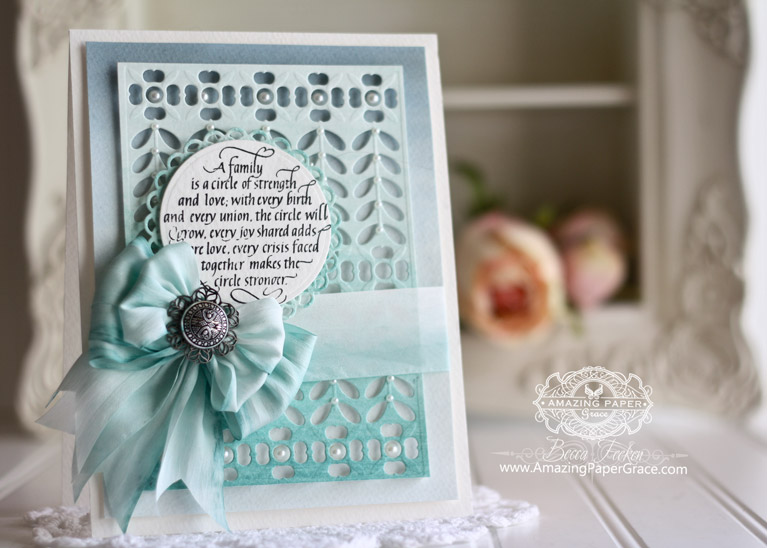 Happy Friday sweet friends!  A short post today – all is good in my world and I hope it is in yours too!  Today I'm sharing an ombre watercolored background with ombre dyed ribbon on a card about what's so dear to us all – family! How very true these words are so I thought it perfect for today's giveaway.
This saying is one of my very favorites and of course the sentiment is perfectly cut with a circle.  I've been so fortunate lately to have had so many of my family visit me. This past weekend was a mother/daughter dining out, shopping, binge watching Game of Thrones, and pajamas kind of weekend.   As I stop to realize all there is to be grateful for, life doesn't get better than this.  I know it sounds silly . . . I can get in the car and go visit any time I want, but as she pulled out of the driveway and reached the end of the street – a flood of tears.  The absolute joy of family!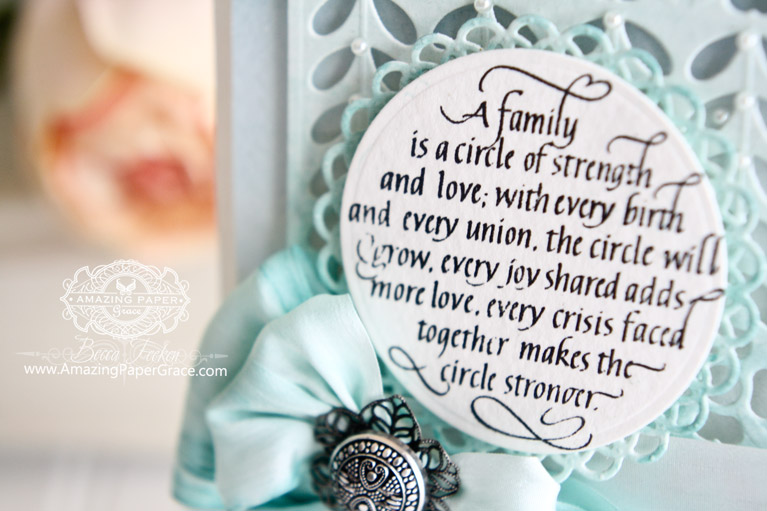 A die cut background or embossing background set the stage for a wonderful palette of texture.  I love working with full backgrounds so I used Spellbinders French Harmony and highlighted my sentiment cut with Spellbinders Standard Circles Small by backing with  Spellbinders Stately Circles.
About Day of Giving Friday
For new readers, every Friday it's my pleasure to give away a card.   The card goes to a randomly picked reader (worldwide) who leaves a comment in our conversation. Want to know more about Day of Giving, here's a link to my FAQ's just check out #11.  You can check to see if your name is on the list of winners HERE.  For your comment:  No shame in being emotional, when is the last time you cried?


Rubber Stamps: Quietfire Design – A Family Is A Cirle of Strength
Craft Paper:  Strathmore 140lb Watercolor Paper
Ink:   Versafine Onyx Black
Accessories: Spellbinders French Harmony, Spellbinders Standard Circles Small, Spellbinders Stately Circles, May Arts Silk Ribbon, Button, Filigree Flowers


I hope your weekend is full of lovely people, places and things!  See you soon!