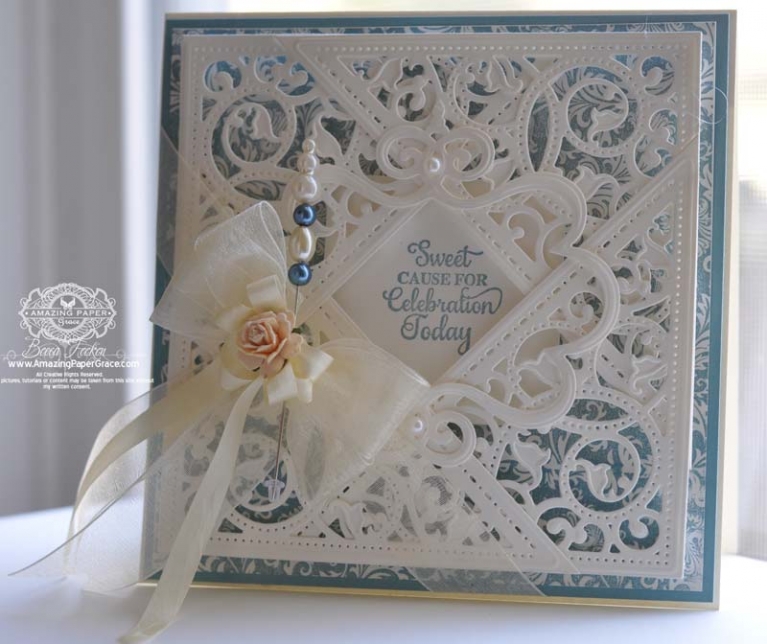 Happy Monday morning friends! I hope you had a stellar weekend.  Today's post is short and sweet –  it's so hard to believe that we're already to Day 20.  The card for giveaway today is from my stash and I remember making it as if it were yesterday.   Thank you so much for indulging me in this cause that I know we all share together.   I say we get as much joy at giving a card as we do when receiving because the making is such a wonderful experience.  Craft on!!
If you're new to the blog, welcome to my 30 Days of Giving – every day during the month of July I'm giving away a handmade card – you can read all the specifics HERE.  You can check to see if you've won a card by searching for your name on the Giveaway Winners page.  You get there by the menu at the top of the page – put your cursor on Features then look down the list and select Giveaway Winners.
For today's comment –  since hand made occasions can be often for people who  know many people or make many gifts and cards – how many hours a week do you spend creating?
The card that's being given away today is shown above.  Just a note – this is a card that has been shown before and there is a possibility that some of the supplies that were used are currently discontinued, no doubt there will be something you can substitute – have a look through my galleries for alternative ideas.  Many things can still be found on the open market, just google and you'll find that many retailers are still selling.

Stamps: JustRite Papercrafts – Floral Flourishes Background, Circle of Love
Paper: Neenah Classic Crest – Natural White.
Ink: Amuse Studio – Blush
Accessories: Spellbinders™ Gold Elements, Spellbinders™ Classic Squares LG, Spellbinders™ Twisted Metal Tags and Accents, May Arts Silk Ribbon, Maya Roads Triple Pearl Pin, Organza Ribbon, Darice Pearls,


Have a super week!  I'll see you toorrow!