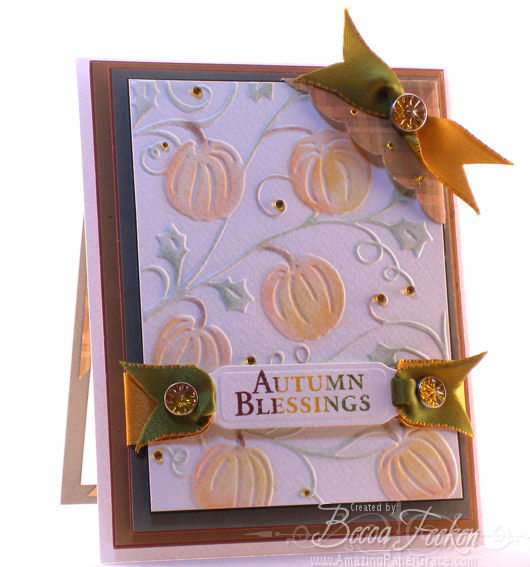 It's not autumn here yet but a girl can dream, right? Am I the only one that sighs when I day dream about fall? It's seriously the most wonderful season and a wonderful prelude to winter. Everybody else seems to be stamping autumn so I couldn't stand back and be left out! I am seriously patting my foot waiting for fall! Okay, word association – fall festival, apple cider, hot chocolate, hay rides, bonfires, football games, leaves turning, snuggling in a blanket, nippy mornings, smores, pumpkin patch, homemade soup, blessings everywhere . . . are you there?
Here is another one of the new seasonal Cuttlebug Embossing folders. Since I'm so partial to fall I can see using this many times. I colored it with chalks – in both pattie form and pencil form and embellished with crystals.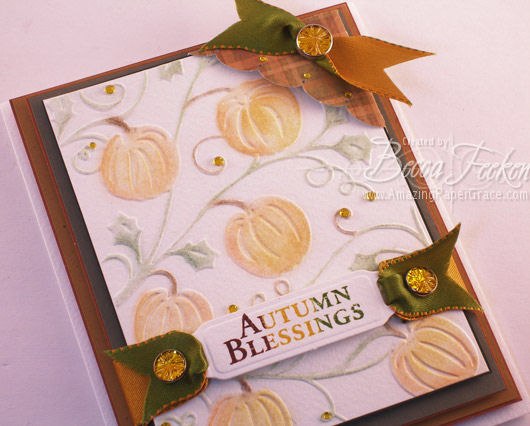 Okay, I'm off to my stamp room to find more autumn stamps! If I'm missing in action later on . . . don't worry, I'm just off day dreaming.
Supplies:
Stamps: Sentiment – The Paper Company Studio
Paper: Fabriano Acquarello Watercolor 140 lb, Bazzill, Me and My Big Ideas
Ink: Kaleidacolor – Autumn Harvest
Accessories: Cuttlebug, Cuttlebug Pumpkin Harvest Embossing Folder, Ribbon, Fall Brads, IKandee Chalks, Assorted Pastel Pencils