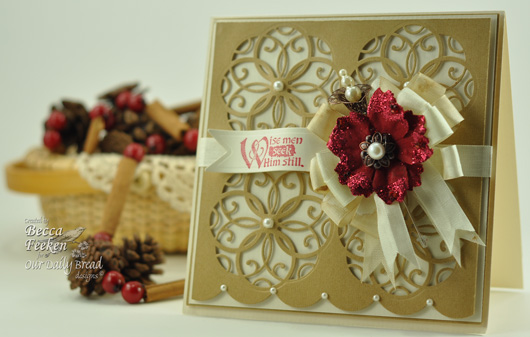 Hello sweet blog friends!  Have you ever made a card and decided something just wasn't right.  It nags you the whole time, but you plod along on the original course, laying it down, looking at it, picking it up, laying it down, glancing at it sideways . . .  You get the picture?  Happens to me all the time.  I've been waiting to use this sweet Die D-Lite Spellbinders™ Medallion One (can you say favorite?) and I knew it would be perfect to create a lacy background.  Once I was done, I was pleased with the look then started piling things on, and on, and on.  Long story short, when I was done, (including a huge panel with a sentiment on the front), you couldn't see a bit of the gorgeously intricate work of the die.  It was a crime I tell ya!!  On the way to take pictures, I turned right back around and reconstructed.  The large sentiment – in the trash; small pennant, smaller sentiment – felt much better.  See, crime averted :-)
This one was really a cinch.  Using a 5″ x 5″  cream panel, I cut Medallions One – four times, embellishing with pearls.  To keep things from looking too boxy, I added scallops on the bottom using Spellbinders™ Classic Edges One.   I added a smaller sentiment from Our Daily Bread Designs from the Away In A Manger Set; it fit wonderfully on Spellbinders™ Nested Pennants.   I added another light brown panel and secured everything to a 6″ x 6″ card base.   I finished up with some $1 Bin Poinsettia's from Michaels.  
Thanks so much for stopping by!!  Sending big hugs!