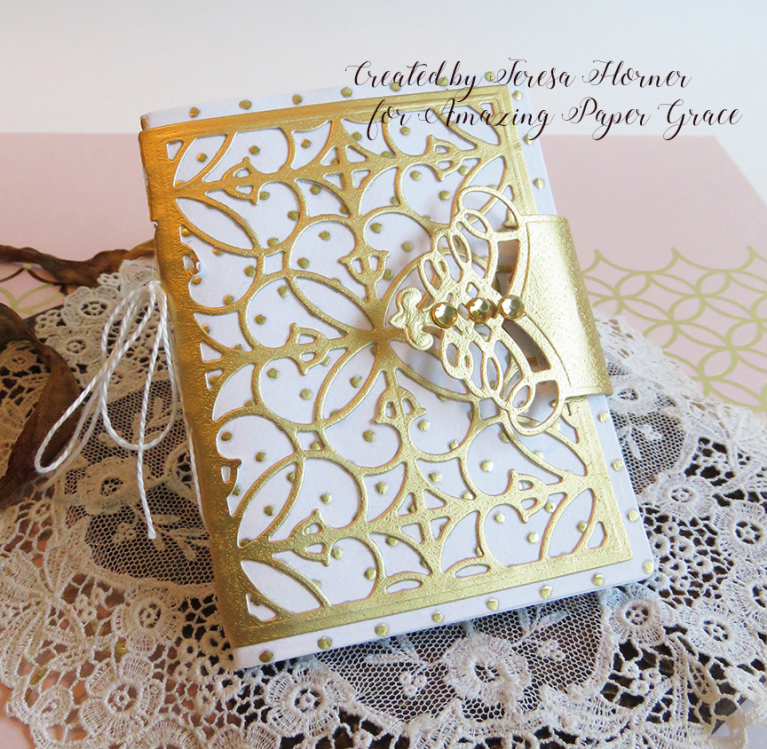 Hi there friends, just peeking in with an update and some eye candy today.  One day every week I'll be recaping the designs made by my fabulous Creative Team and today is the day.  But first some great news – the Amazing Paper Grace Creative Team is growing by one!  I'm so tickled to introduce you to our newest member.   I hope you will welcome her and add her to your subscription lists!  Today's post comes full of inspiration from the creative team – they've worked with dies from the Vintage Elegance Collection; keep scrolling so you can see it all.  We're kicking off today's post with the first creation from our newest designer along with wonderful creations from this amazing creative team.   So tickled to introduce you to Teresa Horner!!
I've had the privilege of working with Teresa Horner for many years.  Our styles are quite similar that sometimes I have to do a double take!  Teresa is expert at building well balanced ensembles that stretch a die purchase and allow you to use the die in so many ways.  She has such an eye for details and loves thinking out of the box.  Her creations look involved but don't be fooled, they are very easy to recreate.
Thanks to my amazing mom I have been a crafter and artist all my life.  I majored in art in high school and also in college where I majored in costume design and graphic arts.   I love to draw, paint, sew, and create fun projects out of paper each and every day.  I have been on many design teams over the years and have been published both online and in print publications.  I also worked at a scrapbook store in my hometown and designed for them and taught classes for 10 years.  It has truly been an amazing and fun journey for me.
My favorite part of the journey was designing for Spellbinders for 4 years and I had my first chance at designing with Becca Feeken's beautiful dies.  They are incredibly beautiful and my love for all things victorian and vintage has made them a everyday staple in my crafty library of dies.  So you can see I am over the moon excited to be on this team and create for her , it is truly a dream come true.
I am married to my very, very best friend and have 2 grown kids along with 2 dogs and a cat.  I am a So Cal native and when i am not working at Disneyland in the castle i like to travel, cook, work in my garden, perfect my photography skills and go hiking in the great outdoors.
You can reach Teresa at:
Blog: http://victorianpaperqueen.blogspot.com/
Instagram: https://www.instagram.com/teresamhorner/
Facebook: https://www.facebook.com/teresa.g.horner
Pinterest: https://www.pinterest.com/vintageartandme/
Teresa Horner is using the Spellbinders Vintage Elegance Filigree Booklet for a quick and elegant way to gift some money to a  friend for her graduation.   She made it up in gold and white and glued the Vintage Elegance Filigree Pocket inside to hold the cash and matched the elegance by using Spellbinders Decorative Swallowtail Tags (which fits perfectly inside the pocket)  for the sentiment.  Did you see how she created a closure on the outside with the Decorative Swallowtail Die as well?
Edited to Add:  I'm tickled that this has been a popular die.  It looks to be sold out at Spellbinders and Amazon someone will ask so I've provided  an alternate link where  I recently ordered the die from and received it within several days—>Spellbinders Vintage Elegance Filigree Booklet
Joanna Krogulec crafted an ensemble that made us all gasp.  It's so simple yet with all the flowers it's so enchanting!!  The Spellbinders Vintage Elegance Filigree Booklet doubles as a mini -card and that's exactly how Joanna used it – first as an Anniversary Card and then . . .
using the other patterned insert, she came back and did a birthday card!  They are both delightful and different from each other as they are sweet.



Melissa Bove had us swooning and asking for details about her card creation, with the perfect shade of blue ribbon that she hand dyed!  Perfectly shabby chic and so many details to love, she used Spellbinders Vintage Elegance Curled Grace Oval for her focal point and layered on ovals in the same set.  She finished by cleverly tucking in a sentiment that she snagged from the Spellbinders Vintage Elegance Giving Occasions Die and Stamp set.



Her second creation is an open book display that she has filled with all manner of sweet collectibles.  Meant to stand open and display the contents, I love the heart and the flowers match everything so wonderfully.  The booklet holes are precisely covered by pearls – I thought that was so genius.  A similar arrangement with pictures  would make a nice booklet frame to stand on your beside table or desk.   She is using the Spellbinders Vintage Elegance Filigree Booklet along with another sentiment from the Spellbinders Vintage Elegance Giving Occasions Die and Stamp set.
Kristi Schurr made some clever cuts on her beautiful card to give her additional layers.  She used Spellbinders Vintage Elegance Curled Grace as her focal point but wanted her layering to have the curls also.  She explains on her blog how to make to cuts to give you the extra layer.  So loving her bow and flowers!



Thanks so much for joining us today.  I hope you've found a little bit of inspiration in these creations.  It's so amazing seeing what every one comes up with – an absolute gift and so lovely to share.