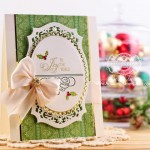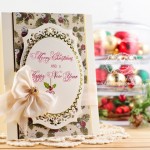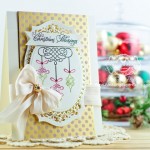 Well, it had to happen…I made a big goof and because so many people asked me about this card, I thought I would make the correction in its own post.  Yes, it draws attention to my silly goof but I want to catch you before you get to a dead end, like Katherine. (By the way, if you left a question in the question parking lot on the post where I share these cards, the answer should be there for you).
Here's what Katherine said:
Hi Becca,
Love all your cards….You always give great inspiration.  I have a question that pertains to the Christmas cards you recently made using the Adorning Labels 25 and Labels 25 however you said you also used Classic Ovals Large. . . I found this to be much too small to fit the sentiments on them . . . could you have possibly used the Grand Ovals LF-110? I hope to hear back from you because I am stuck.
Thanks Becca for your help…
Katherine Hill
Here's what I said:
gulp….
Well, it seems that when I wasn't looking my Grand Oval #1 sneaked out and took up residence in the Classic Ovals LG Case and was posing as Classic Ovals LG #6.  Had I been on my toes, I would have spotted the imposter immediately because there is no such thing as Classic Ovals LG #6. Even I had to click on the links to prove it to myself! (Dramatic music here) Say it isn't so . . . Well the nerve of that poser!!   I've ordered everyone back in their cases where they belong and I feel horrible!  I've edited my post —–>http://www.amazingpapergrace.com/introducing-amazing-paper-grace-elegant-christmas-swirls/  so that you can see the changes and make a note of them.
Here's the bottom line:
Instead of Spellbinders Classic Ovals LG, you will need Spellbinders Grand Ovals.  Don't have it?  An alternative pairing is the oval from Spellbinders 5 x 7 Heirloom Legacy with Spellbinders Floral Ovals.  So sorry for the goof  :-)
Happy Friday sweet friends, you bless me so and I hope you have a glorious weekend!