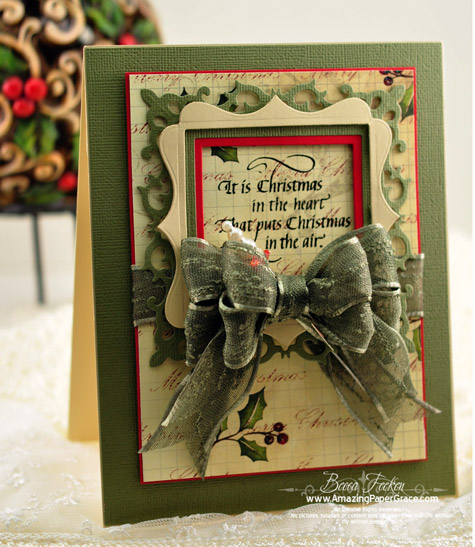 Fa la la la la, la la la la!  Hi there blog friends.  I'm still on a Christmas kick – the clock is ticking down and I feel the pressing tick – tock in my mind every minute.  Life is simple so I don't have tons of shopping to do, but I aways seem to wake up about a week prior.   My Christmas tree, one of the slim pencil trees, has been up for the last year.  My sweet daughter just moved on December 1st (looooong story) so we bundled the tree up, ornaments and all, and took it to her new place.  I purchased another one but when I went out to get ornaments this past weekend, it almost seems like retailers are rolling the carpet up on Christmas decorations.  The shelves were bare, they are already putting out spring stuff!!!    I have enough to get by this year but hopefully I'll be able to catch an after Christmas sale so that I'll be ready for next year, ha-ha!

I've picked another Quietfire Design sentiment to share today; this one is called It is Christmas in the Heart.   I know I've said this before, I love this type of classic sentiment – it wears well on both the front of the card or the inside.  I've paired it up with a frame made from Spellbinders™ Fleur de Lis Squares, Spellbinders™ Labels Sixteen and Spellbinders™ Classic Squares LG.  Simple!
Thanks for stopping by.  I'll be back soon!!