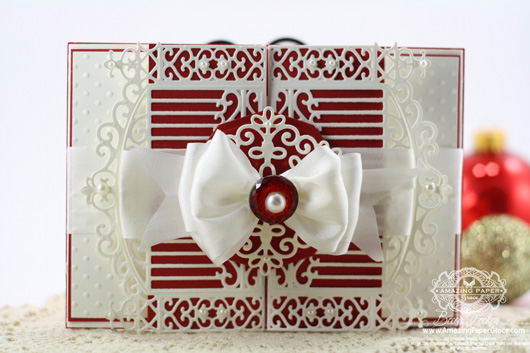 Hi there blog friends!   I'm back today with another Christmas Card; a gatefold card. Today we're showing JustRite Christmas Inner Thoughts and as a special treat – I used new Spellbinders Create-A-Flake 5 on the opening and on the inside.  They are brand new for July 2013 and gorgeous!!!   I felt like a gatefold was the perfect format to show how nicely the sentiments from Christmas Inner Thoughts work and they'll slide nicely inside a top fold card too.  The gatefold is made using Spellbinders Gilded Gate Two. There are two gates, one on each side of the fold.  The opening has a round element, Spellbinders Decagon, and on top is Create-A-Flake 5.  On the inside I used all but one of the flakes in the set, two are stacked and two are used as single elements.  The second tier is embossed with Spellbinders Dainty Dots.
No recap today because I'm not sure I could explain how I arrived here, but I will put this one on the tutorial list.  I'll do even better, someone can win this one – I'd love to send it out to one of you. Leave a comment on my post today and stop by to leave a comment on my post tomorrow and I'll use random.org to pick day 1 or day 2 then random.org again to pick a winner.   That would be one Christmas Card done for you already!!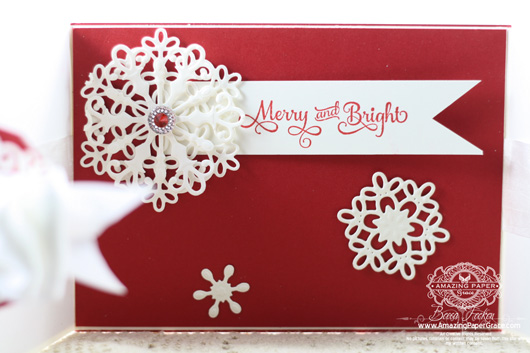 Please stop by and see the other ladies on the design team, their links are below.   They've rolled up their sleeves and created some wonderful Christmas projects.  Also there is a sale going on at JustRite – 20% off of Faber Castell products.  Last, but certainly not least, please pop out to the JustRite Inspiration Blog and leave a comment for the $100 giveaway – you can read about it HERE.
I must apologize, I wasn't thinking clearly on my last post – so much going on – I gave you the wrong date, so let me try this again.  Sneak peaks with Spellbinders start on Thursday at noon – as always there will be prizes so pop in and be sure to register, it's going to be an exciting week!!