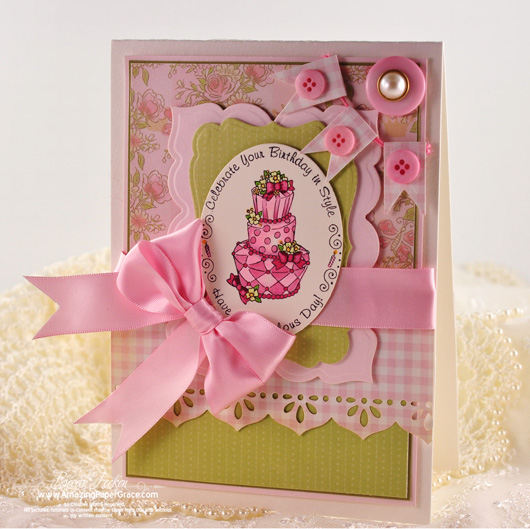 Just in case you haven't peeked in in a couple of days, here's what I have going on.  Today is day three of new releases from JustRite Stampers and the really, really cool thing is that there is currently a sales code that will give you 20% off of anything ordered at JustRite Stampers including sales items.  At checkout JRBLOGTEAM in all caps will get you the discount until October 31st (not valid with any other codes).  You can even get the 20% off of the ultra discounted $5.00 and $10.00 deals. The set debuting today is called Topsy Turvy Cakes.  Because I never have enough birthday cards in my stash, I seized this release to make a girly, girly birthday card

I don't recall having done this combination of layers before, but I'll tuck it away in my mind for a quick card next time.  Starting with Spellbinders™ Labels Twenty Three, I added Spellbinders™ Labels Seventeen then a Spellbinders™ Classic Ovals LG on top.  My border combination is Spellbinders™ Classic Petals Edgeabilities.  I finished off with some fun Spellbinders™ Nested Pennants across the top right corner :-)

Theres certainly more to see today as quite of few of the JustRite Designers have something to show you!

JustRite Inspiration
Becca Feeken
Sharon Harnist
Sankari Wegman
Kazan Clark
Kellie Fortin
Angela Barkhouse
Eva Dobilas
Kathy Jones
Michele Kovack
Barb Schram
Another beautiful set is going to debut tomorrow.  I hope you'll peek in – I think the day 4 set is one of my favs!!  Have a splendid day sweet friends!!