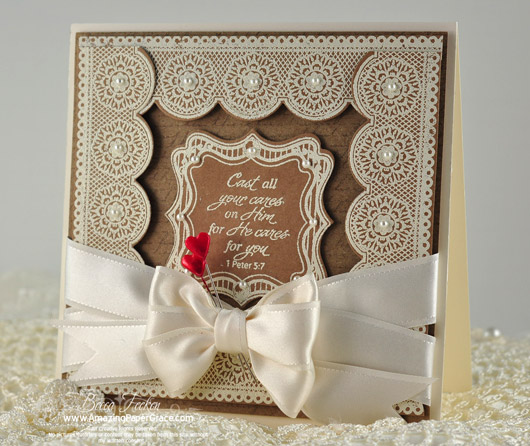 Good morning blog friends!   I want to share one of the CHA projects I've not shared yet.  This one is a new release from JustRite Stampers called Cast All Your Cares.  I also used JustRite Stampers Classic Scallop Borders One and the most wonderful thing happened – I was able to cut the border with Spellbinders™ Classic Scallop Edgeabilities.  Needless to say, I went to town and put a border around the card since it was so easy to cut them out!
My card is 6″ x 6″.  The border has scallops every inch so I pared each border down to 5 inches and matched them on the ends.  It left me room in the center so I dropped in Spellbinders™ Labels Sixteen against some subtle script printed design paper.  I finished off with a triple bow on the Peg Bow Maker and embellished with two red hearts.
Here are the Design Team Members who also have projects to share today:
JustRite Inspiration
Debbie Olson 
Becca Feeken (thanks for peeking in today! 
Heidi Blankenship 
Kazan Clark
Linda Duke
Angela Barkhouse 
Michele Kovack
So glad you enjoyed the box tutorial from Friday, keep your eyes out for more!  Crafty smooches!!