Don't forget the "Tell Me 'Bout the Good Ole Days" Blog Candy that goes until Friday evening – you can read about it

HERE

and be sure to leave your comment on my post on April 25th.

Hi there! I have fun little project to share with you today. It's a project I created over on the Our Daily Bread Designs Blog, but I can show it here as well. When Kelley with Our Daily Bread Designs published the Scripture Collections this year I knew I wanted to do something with the entire collection. The collection all together is so inspiring so I thought to make a booket out of them. While shopping in the office supply store I came across some name badges and thought they would make perfect pages for a book. The more I thought about it, I envisioned a little booklet you could easily slide in your purse or carry in your car to pull out when you had a snippet of time. I dressed them up a little bit by putting a fun tag on them to make them seem like a kit that you would pull out if you had a certain need.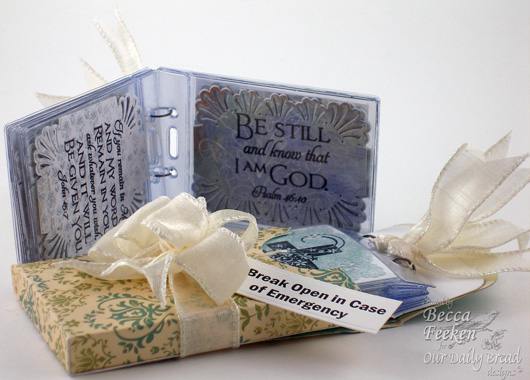 You can see here that 10 pages is a full load for this box. For more pages I'd have to make my box deeper or jump to a different container.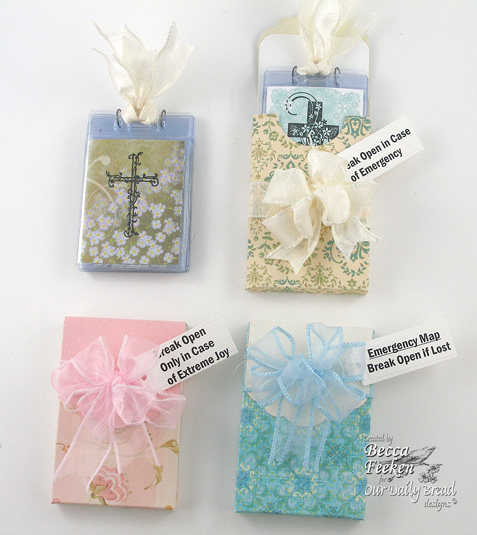 I kept these fairly simple with just bows on the boxes but on my next ones I see pearls and flowers and perhaps a belly band.

As I really got into putting these together I thought of all the uses – flash cards for a kid, pocket recipes for a girlfriend, a quote journal. I love it because it's so small.

If you think that someone is tired of getting your cards I thought this would be an excellent change up and one they are likely to keep! The best thing is that the kit uses all the stamps in the Scripture Collection 3 and Scripture Collection 4 sets by Our Daily Bread Designs. Here are the steps I took and the supplies I used to make them (click on pictures to make them larger):
| | |
| --- | --- |
| | To get started, I purchased the ID Badge Holders at Office Depot. They have both horizontal and vertical and come 12 to a set. I'm using the vertical ones here. |
| | Each booklet has 10 pages. For this kit I cut 20 pages that are 2 1/2" x 3 1/4" each. Then I prettied them up by using corner punches and borders punches. On this kit I used the same punch on each page for a consistent element. For the kit that's tucked into its box, I used a different border punch/corner punch combination on each page. There's lots of opportunity to make each one different. |
| | As I planned the booklet I laid out all of the different scripture I wanted to include and paired together the horizontal pages and then the vertical pages, then planned their order. |
| | This is the flip side of all of the pages. Once paired, I inserted each pairing into a plastic sleeve. |
| | Not having any jump rings on hand I snagged a couple of these spiral paper clips and cut them to make my own jump rings. The rings need to be small to fit into the box – these are the perfect size. |
| | Here's how it looks when everything is assembled. I left the cover page and back page whole. Once the jump rings were in place I threaded ribbon through the top so that the packet would be easy to pull out of the box. |
| | I fashioned a box from cardstock but the packet will easily fit into a tin or a baseball card holder. Stay tuned and I'll be publishing the dimensions for the easy to make box :-) |
| | To finish up I thought up possible tags to go on the outside of the kit and generated them on my computer. I spaced them out so that I could go back and cut them out with a die cut tag or shape. |
Hint: For this project I used Scripture Collection 3 and Scripture Collection 4 because they are the right size to fit within the pages of the booklet. Some of the extra verses come from Scripture Collection 1 and Scripture Collection 2. I also found out it was a wonderful use for scrap paper. For me, I have several sets of paper that I've purchased that are not considered current any more and this was a perfect use because as a set – all the papers match.
Here are the supplies I used:
Project Recipe:

Stamps: Our Daily Bread Designs – Scripture Collections 3, 4 and select stamps from Scripture Collections 1, 2
Paper: Assorted Paper from my Scrap Bin, Memory Box – Provence on shown booklet
Ink: Versafine Onyx Black and clear embossing powder
Accessories: Assorted Martha Stewart Border and Corner Punches, ID Tag Holders, Ribbon, Jump Rings or Paper Clips,

Spellbinders™ Labels Eleven

(for lid of box),

Spellbinders™ Tags Five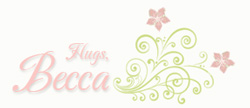 Take care friends, I'll be back soon!!