How true is that! This little butterfly has inhabited my stash for some time and I'll apologize ahead of time that I don't know which company offers this unmounted. Please, please if you know – email me so that I can give them proper credit. He-he I have quite a few stamps from this company, that I picked up at a Stamp Convention several years ago and I know the name is written somewhere in my studio….I'll keep trying to find it too.
This design is likely to have either a flower or a strip of design paper added somewhere, perhaps, before sending it out. I really tried to load it up and my Cuttlebug was hungry for the background, but I resisted. The butterfly was colored with Copics on Fabriano Watercolor paper…. no, I didn't plan that in advance, but it ended up being very interesting how the paper took the color and how it moved around on the paper.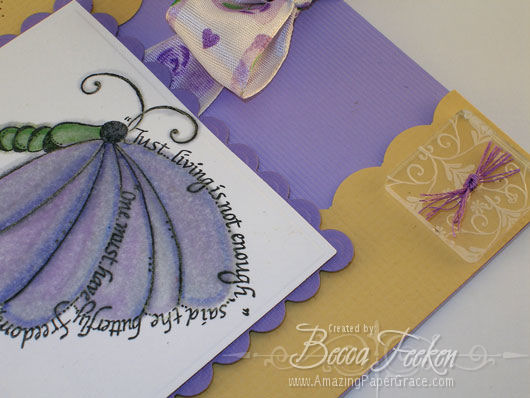 The wings are embellished with a Sakura Gelly Roll glitter pen and it sparkles in real life, but tricky to catch with the camera. Lastly, the piercing pattern is an Ornare template – tons of fun and simple to do. Have a blessed day.
Supplies:
Paper: Bazzill, Fabriano Acquarello
Ink: Stazon Black
Ribbon: Michaels
Accessories: Button – Heidi Grace, Nestabilities, Ornare Template, Copics