Sifting through my things, I came across an image that I watercolored years ago. It seemed a shame not to put it to use, so I cut it up and put it on my next card.
The sentiment on the card is "Time changes many things…But not the joy your friendship brings."
Like the sentiment, time changes many things — I'd like to think that I would color this differently today and most certainly it would be popped up on layers to give it more dimension, but quite the welcome for a quick card today.
On the bottom I used some elements called Ka-Jinker Jems and they are attached with a tool called a Ka-Jinker. It reminds me of the tool used to attach price tags to clothes, but it's a tad different because it inserts a plastic stem in the center of a one hole flower button or gem. Lots of fun…it makes my white flower look like it has a yellow stamen. Yes…..I find joy in the littlest things. I hope you do too!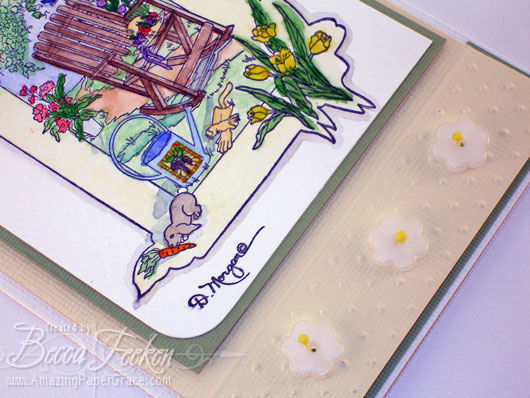 Supplies:
Stamps: Stamps Happen
Paper: Bazzill, Canvas Paper
Ink: Black Brilliance, Watercolors
Accessories: Cuttlebug Swiss Dots Embossing folder; Kajinker and white flower buttons