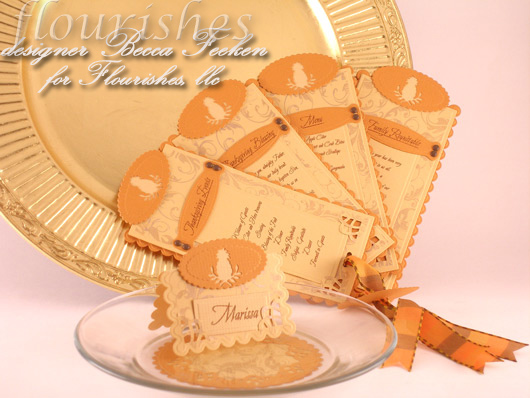 I'm looking forward to a wonderful family time this coming Thanksgiving and am looking forward to every opportunity to make it a truly memorable event. Thinking ahead to dinner and the presentation that I want to spoil my family and guests with, I thought that perhaps this year I would create a program to sit at each place setting as well as place cards. The program will tell the events in the order they occur, the Blessing (one of many) that will be given before dinner to bless the food, The Menu and then outline our Family Roundtable – the discussion we'll be having in celebration of thankfulness we have for blessings received throughout the year. For our Roundtable, each person takes a turn speaking about an event or something they are grateful for.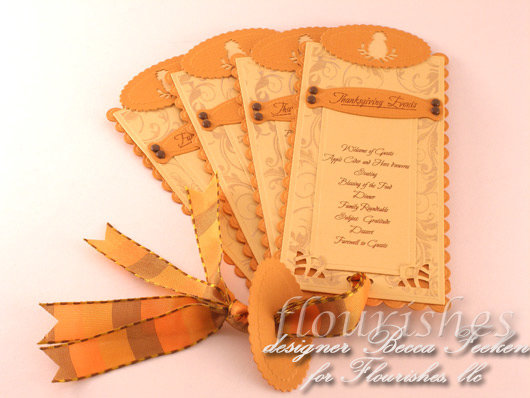 Once I delved into this project, I got really excited about the whole concept. As I designed the pages for the program I discovered I could make them reusable – so now I can actually pull out each typed portion and replace it with a new panel if I want to use the program again. Of course if we have guests they are welcome to take a program with them as a keepsake. Doesn't this project just scream scrapbook? I can see after the event is over separating each of the pages and taking the place card and making them all part of several scrapbook pages reflecting on the good time had at Thanksgiving.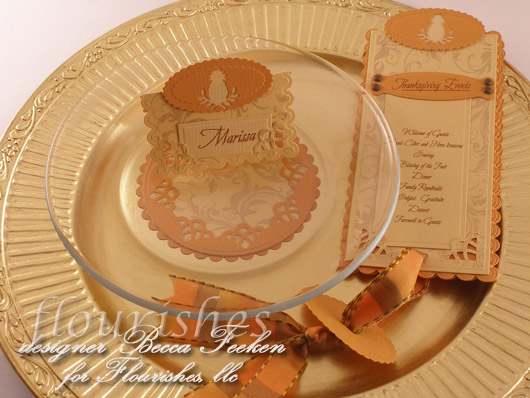 The background of each panel is done with the Flourishes Damask Background stamp – one of my very favorites if you haven't noticed, and all printing is computer generated.
Supplies:
Stamps: Flourishes Damask
Paper: Bazzill
Ink: Brilliance Pearlescent Beige
Accessories: Nestabilities, Punch, Brads, Ribbon
I'll be posting Blog Candy some time this weekend, so be sure to stop by! Happy Friday!