If you've visited much since I began blogging, you may have noticed that I have a fondness for Wordsworth stamps. I have a small collection and it's been a dream come true to actually use them. I have many more to go, but once I'm done you can rest assured that I'll casually mention to my husband that I've used them up and perhaps it's time to get more….(smiles innocently).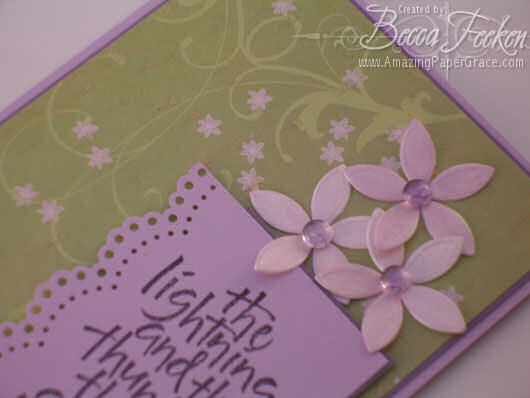 The card is 7" tall by 3.5" wide – I know, how odd! I finally found a way to work in the Memory Box – Sprout paper from my stash! Lastly the bridal flowers from Michaels were originally too stark to use as they were, so I shaded them with V01 Copic.
Supplies:
Stamps: Wordsworth, KT Designs
Paper: Memory Box – Sprout; Bazzill
Ink: SU Elegant Eggplant
Accessories: Ribbon; Dew Drops; Michael's Brides Flowers; Martha Stewart Punch; Copics
As always, thank you for stopping by. I so appreciate all the sweet, sweet comments that are left and feel blessed to know you take a moment out of your day to visit.