Greetings friends!! What wonderful feedback you've left for me. I knew I could count on you all to give me the real deal. I never would have guessed there would be such a demand for masculine cards. Yikes, it's somewhat out of my comfort zone, but I'm willing to give it a try along with many of the other requests you offered. In the meantime thanks so much for the kind words and for helping me to celebrate another mile marker. Well, there's a winner to be announced, so here we go:
Random.org helped out by selecting this number:
Which corresponded to the following comment: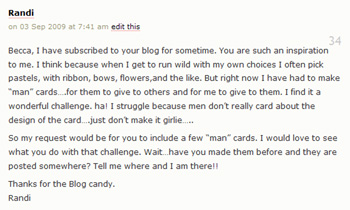 Randi, be sure to email me through my contact page to give me your mailing address within the next 48 hours. I'll look forward to putting these goodies in the mail to you. After 48 hours if the prize hasn't been claimed, I'll pull another name.
For tomorrow, have a great Labor Day!