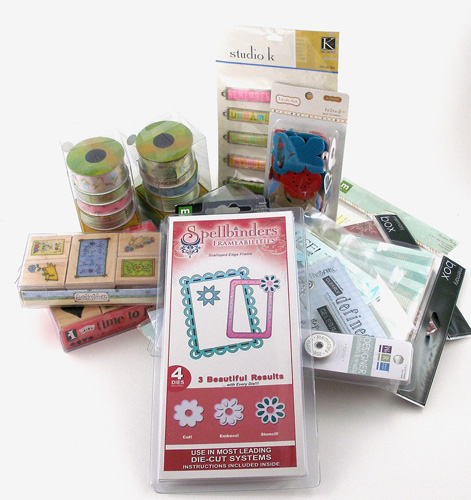 . . . 2 years of blogging!! More than 500 posts and 1000 pictures behind me, the time has unbelievably flown by! Take it from me, the pleasure has been all mine!! Getting to know you all, keep busy and growing with in the craft have been a blessing.
In celebration of the two year anniversary, I'm giving some blog candy. Central to what I'm giving is my one of my favorite Spellbinders Frames. I thought it would be a neat item to give because through feedback you all have inspired me to do a tutorial on the Woven Lattice Card that I made in December. I should have the tutorial ready and posted in the next day or two :-)
In the meantime, here are the rules for the Blog Candy. Feel free to submit your name once each day from Sunday, February 7th until the end of the candy which will be Friday, February 12th at Midnight. I'm including a special secret bonus, if the name that I've picked has entered at least 5 of the 6 days the Blog Candy is available. I'll announce the winner on Saturday morning and will give the winner 48 hours to respond to me through my contact page before I pick the next name.
Okay, so here's what I'd love for you to share in your comment . . . my daughter told me about a show she watched called the Buried Life. On the show the four guys who are cast members have a list of 100 things they want to do before they die. For every one thing they cross off their list, they help a stranger cross one item off of the strangers "Bucket List". Surely you've heard of "Bucket List" right? If not, please google it before you leave your comment. For each day you enter, I want to know, one item from your "Bucket List." They say not to put your dreams off until "someday" so I hope this is the start of a list for you. :-) Here are some of the listed examples they checked off on the show – plant a tree, help someone build a house, give a stranger a $100.00 bill, send a message in a bottle, pay for someone's groceries . . . you get the idea? I can't wait to see what you come up with.