Hi there blog friends, here's the game plan!   I mentioned to you earlier that I would be offering Blog Candy to celebrate a huge milestone you helped me reach.  Note, this is not the blog candy, so I've closed comments on this post.  My blog candy post will come tomorrow (some time), but I wanted to give you a peek of what I'm offering and to tell you the rules ahead of time because a fun game is involved.
Thanks!!!
First of all, much to my amazement, you have boosted my total page hits to up over 14 million!!  This is something that makes me smile and that I certainly don't take for granted.  Behind every click I know I have an online friend.  Also within the next day or so I reach 1000 blog posts.  What is that saying . . . a journey of 1000 miles begins with a single step.  Little did I know when I made my first blog post that 999 would follow!!   And on top of all that, we are going into one of my very favorite holiday periods – I love 4th of July!!

Here's What's Up for Grabs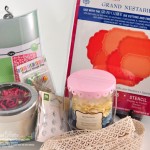 So here's a peek at what I'll be giving.  On top of that there are ten bonus trinkets (for example, one is a Mini Bowdabra)  you can earn as well as a gift certificate from JustRite Stampers.
Here's the Rules
The Blog Candy will begin on July 1 and will go though July 5th and a winner will be picked on July 6th.   You can leave a comment every day for the duration of the blog candy and for your comment, I'd love to know your favorite thing to eat!!   I'll be posting a Blog Candy card and here's where you can score some extra goodies.  Over the course of the entire blog candy (7/1- 7/5) there will be ten changes that happen to the card.  Have you every played that game "What's Different"?  Well that's what we'll be playing and it will earn you the bonus gifts and gift certificate.  Here's how it works, perhaps a button gets moved, a piece of paper gets changed, different ribbon, addition of a brad.  There's no schedule to when it happens and there will be no announcement to notify of the changes . . . could be once a day, could be three times a day, could be one on one day and two on another day or what's done can be moved back as one of the moves (insert mischievous grin here, I know, right?!)   When the winner is picked on July 6th, for every change the winner can name that happened to the card, they will get a bonus trinket and $5.00 will be added to the value of the JustRite Stampers Gift Certificate (begins at $0 and can go up to $50.00).  You need to make a note of the changes in the order they happen and note which day they happen on. Your box gets heavier for every one you get right.

In all fairness I ask that you keep your notes of what has changed to yourself and not publish them on any forum or do not mention them in your comment.  To make the most of this candy, your best bet is to pop in whenever you can to see what's up :-)  I haven't done a game in a long time, this is gonna be fun!!  A word to the wise, don't wait on Feedblitz or Feedburner, you might miss a change, just pop in and look!!  Well that's it.  I wanted to put it out there so that you could get your strategy down :-)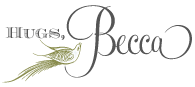 Coming up: New releases with JustRite Stampers and you can see them by going to the JustRite Inspirations Blog.
Tomorrow is the Our Daily Bread Designs July Blog Hop – – join us!