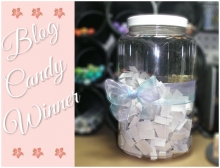 Many thanks for all the wonderful comments left for Blog Candy!! Oh my word, when you read through all the comments and see all the heartfelt traditions that people eagerly anticipate every Christmas season, it's easy to see why it is one of our favorite holidays! I am so blessed to see that so many people are mindful of the religious aspects of Christmas and endeavor to pass them on to the coming generations.
As promised, the blog candy give away was for a set of Spellbinders Long Classic Rectangle Large Nestabilities. Hint, hint, if you didn't win this time, stay tuned . . . the matching scalloped set is scheduled to be offered before the end of the year.
The name picked by random org was:
Lori, you have 48 hours to contact me to accept your Blog Candy – it's probably easiest to send me an email through my contact page with your address. After 48 hours I'll pull another number from random.org until I have a winner!
Shesh, I somehow got that stomach virus and it's throwing me for a loop. I guess that's one way to take it easy . . . in the meantime as soon as I get back to the computer, I'll have more to show. I know I'm running out of time, but I have so many more Christmas stamps I want to use. I hope these days find you full of the spirit of giving.
ETA: Lori emailed me within hours to claim her new nesties ;-) I don't blame you girl, they're awesome (wink)!!