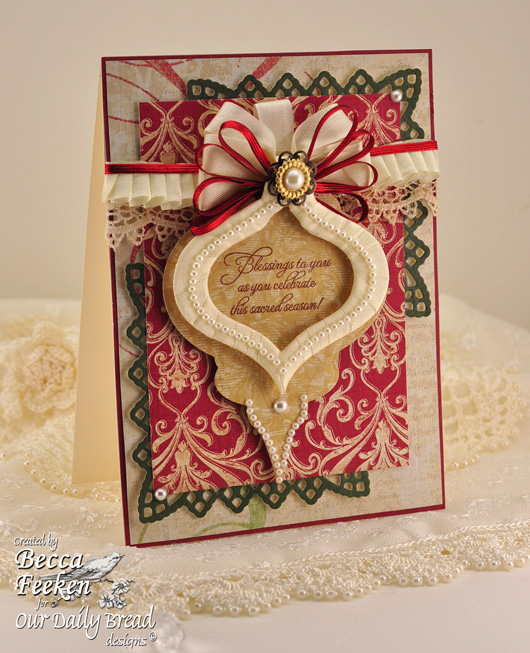 Hi there blog friends.  I didn't mean to be away so long but I wasn't really away, I just wasn't able to sit at the desk.  My pinched nerve is back except the doctor doesn't think its a pinched nerve.  It's a long story but the boot I've been wearing while avoiding foot surgery for the last year has caused my hip some problems.  I'm trying to move forward with the foot surgery now but that seems to be easier said than done as another obstacle has cropped up.  Fall down (figuratively), get back up!  No worries, I managed to get into the studio – it's the best medicine I could have taken today!!
For my card today I'm using a sentiment from Our Daily Bread Designs Sacred Season set and was tickled that it fit right inside my ornament die cut.  I stacked Spellbinders 2011 Heirloom ornament (cut as a frame and wrapped with seam binding) on top of Spellbinders 2010 Heirloom Ornament.  For the corners of the main panel I used Spellbinders Lace Doily Motifs.  I added a little bit of lace and a little bit or ruffled seam binding and pearls.  Heavens, this took me forever but it sure feels good to make a card and set aside my worry.  I hope you can do the same.  While I was on break I thought about how therapeutic card making has been for me – it's the best stress reliever I know :-)   I'm so blessed.

I missed the opportunity to wish you all a wonderful Thanksgiving.  I hope it was fabulous!!  Bring on Christmas, right!!!