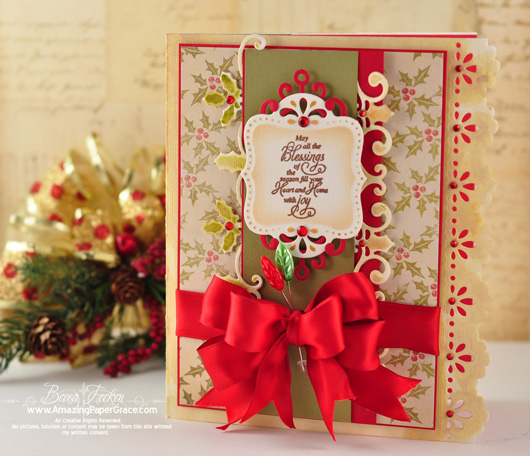 Sweet friends, know that you are blessed today!   I have a card to share that is certainly tickling my Christmas bones.   I haven't had a chance to dive into Christmas yet, but like many of you, once in . . . I'm all in :-)  I don't know about you but when I'm planning my Christmas Crafting activities, I like to invest in a couple of different looks.  Traditional and vintage looks seem to be my main staples and then I like to have a smidgen of whimsy so that I can do a few of those too.  My card today leans more towards the traditional and I'm using a sweet JustRite Stampers set introduced earlier this month called Christmas Trimmings.
I have an admission to make.   Once a Spellbinders release is over and I sit down to use the new dies, I think I'm sooooooo excited about them that I try to get as many of them on one card as possible.  I had to really pull back on the card I made today and subtract – I just couldn't make it all fit without clashing.  The fun thing is, that just with what I subtracted, it gave me motif ideas for two more cards.  I like that.  I'm not crazy but the new templates all try to talk to me at once "use me", "no, use me" – I know you know what I mean ;-)
For this card I really wanted to use Spellbinders Holly Accents – I way over did it and cut back to just using the border which I divided into half, For my sentiment I picked smaller clean cut elements from  Spellbinders Ornate Artisan Tags and Accents and backed it with a piece from Spellbinders Ironworks Accents.  Then the edge . . . I am so loving the Edgeabilities for the variety they give me – I combined Spellbinders Classic Triple Scallop and Spellbinders Classic Petal Edgeabilities and ran them both through in one cut to get this edge treatment!  

SUPPLIES I USED
Stamps: JustRite Stampers – Christmas Trimmings
Paper: Strathmore,
Ink: Colorbox Chalk Ink – Chocolate Roan, Antique Linen Distress Ink (Dauber), Peeled Paint Distress Ink (Dauber)
Accessories:
Spellbinders Holly Accents, Spellbinders Ornate Artisan Tags and Accents, Spellbinders Classic Triple Scallop, Spellbinders Classic Petal Edgeabilities, Spellbinders Ironworks Accents
, Ribbon, Picks, Recollections gems

Thanks for stopping in!!  New releases come out with Our Daily Bread Designs tomorrow — I think you'll be sew excited with the new sets that are coming out!!