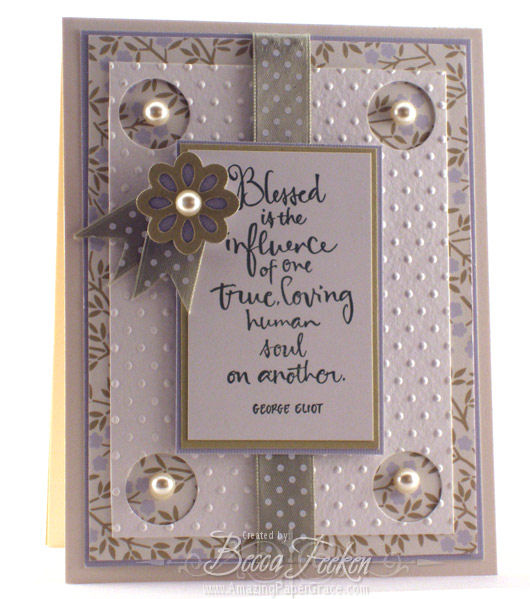 All dressed up and nowhere to go! That was me last night….I had a card ready, a card that I actually liked and no way to get it posted. We had severe thunderstorms so my internet was out. Not only that, my cable TV was out too. So much for a back up plan, hunh!?! If I can't get on the internet, then that's my invitation to stretch out on the sofa and catch up on all the shows I've Tivo'd. Ruh roh, nothing to do…it was a quiet night at my house.
I have a card to share today featuring another of my favorite never used stamps by Wordsworth. I so loved the design paper that I added some round cutouts on each corner where I placed my pearls – it lets just a little bit more of the design paper show through. The dotted green ribbon echoes the pattern of the embossed swiss dots. I have underused my cuttlebug and I love embossing so I was sure to include it in my card. In fact, I've pre-embossed most of my backgrounds so that I have them handy this week whenever inspiration strikes so expect to see more cuttlebug backgrounds this week. I have to get it out of my system, right?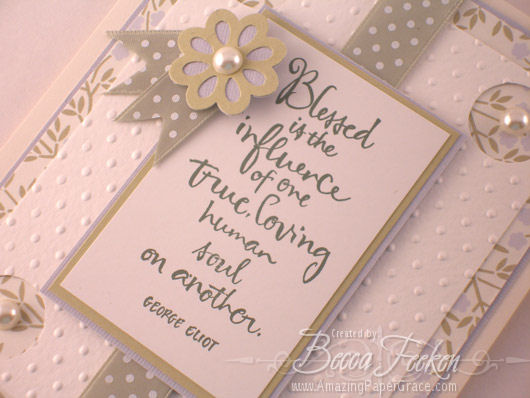 Supplies:
Stamps: Wordsworth
Inks: SU Always Artichoke
Paper: Bazzill; Autumn Leaves – Shangri-la; SU River Rock
Accessories: Martha Stewart Pearls; Cuttlebug Swiss Dots Embossing Folder; EK Success Punches, Michaels Ribbon

Be blessed!