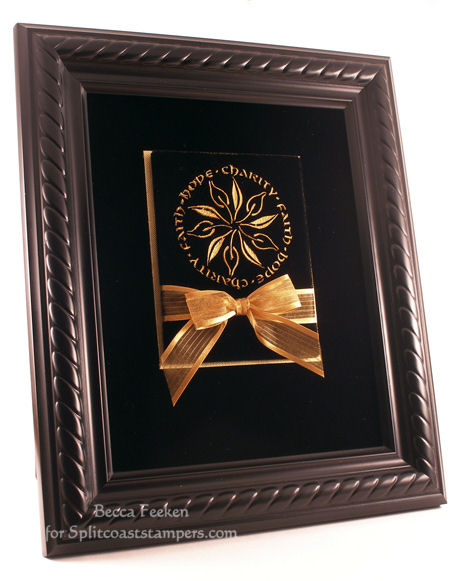 I made this piece a couple of months ago and it rekindled my love of embossing stencils and marked my first time using the embossing paste that was languishing in my stash. It was all just an experiment but the effort was easier than I imagined and the results were eye catching. From my stash I picked a Dreamweavers stencil and gold embossing paste. I thought that velvet would make for a rich background to build a sample. A test run on a small 4 x 4 square of velvet ended up perfect even though I was originally skeptical. My next step was to do the final. I followed the directions on the paste label which are little more than – lay down stencil, spread paste on like peanut butter, remove stencil and wash tools. Um….I'm doin' more of this.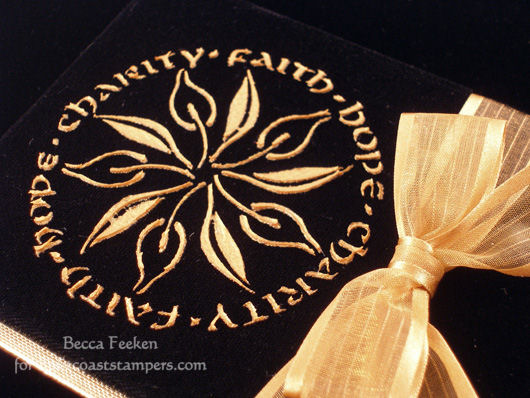 This all came about through a challenge to use art pieces as our inspiration. One of my most vivid impressions of art are the pieces painted on black velvet sold by vendors on street corners. As a military brat, I spent quite a bit of time in the Philippines and when we returned stateside you could always tell other families who had been there, because they had some kind of black velvet art in their household goods. I thought the black velvet was kind of retro but it seems like I run into it even these days when we are in a touristy place.
To finish the piece I picked up a very inexpensive frame from Walmart. I adhered the embossed velvet to mat board, which I then backed with gold paper and mounted on a framed sized sheet of mat board also covered with velvet. The glass was removed from the frame and the mounted piece inserted. That's it!
Piece Recipe:
Stamps: None
Paper: The Paper Company – Gold Linen Weave
Ink: None
Accessories: Dreamweaver Gold Embossing Paste, Lynette Harlow Embossing Template, Ribbon, Frame
Here's to hoping we're all off to a great week!!