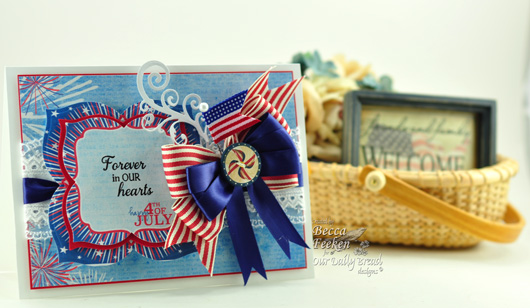 Well blog friends . . . this was slated to go out early this morning but I'll tell you what happened.  Over the last couple of weeks with CHA pressing down, each time one of my kids came to the house I would tell them that I couldn't spend more than a quick second, because I had a deadline.  I know that gets old for even a 21 year old kid to hear.  My daughter came to visit today and I couldn't bear to tell her that one more time that I had something I had to do.  She fully supports me but today I laid the card aside and gave her my undivided attention.  I want you to know I had a wonderful time catching up with her!!    I was adamant yesterday that I would have a card go up :-)  Really, better late than never!!   I'm so thankful for my friends here and abroad.  I'm thankful to have the life I have and the freedoms that I hope to never take for granted.  I also thank those that protect our freedoms, both here and around the world.  I'm the widow of a veteran, the daughter of veteran, the sister of a veteran and very likely to be the mother of a veteran.  I'm proud to say my card is being mailed out to a veteran to let them know how very thankful I am.   If you are a veteran – any veteran, I'm thankful to you. 
My paper is an Echo Park digital download from jessicasprague.com and for the sentiment I chose a new one from Our Daily Bread Designs called Sharing Your Sorrow.  After printing paper, I simply cut thel motif out using Spellbinders™ Labels Twenty Four, added ribbon and bow. The sweet flourish is one of the new Spellbinders sets called S5-143 Jewel Flowers and Flourishes.   My pennant flag is made using ribbon and I simply folded it around a corsage pin.  Enjoy the fireworks sweet friends!  Hugs to our friends abroad too!
Happy 4th!!  Thanks for stopping by, see you soon!!