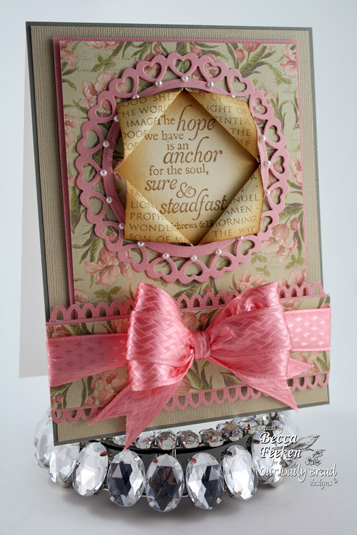 Hi there friends!!  Oh my goodness it is glorious outside today!!  I had some errands to run before I made myself sit down and finish up, but I do have a card to share today.  I'm sure by now that you have no doubt which is my favorite of the new releases from Our Daily Bread Designs.  Bingo, the background stamp called He Shall Be Called is magnificent.  I only hope I haven't worn it out, lol!  Overstamping with text is so big right now and this it is the perfect stamp to add a little bit of character without being too distracting.
This is much easier than it looks.  My recommendation is to use an image on the back that has no orientation, like a random pattern.  When you try this with words,  there is a certain way you need to stamp if you want the words to flip up in a readable orientation.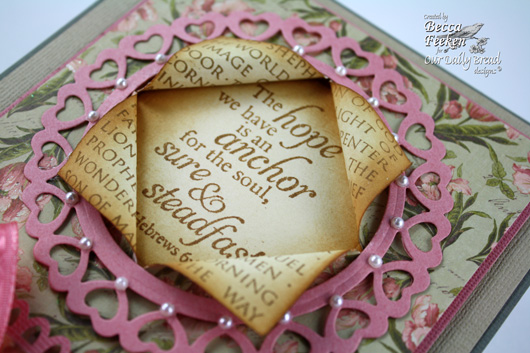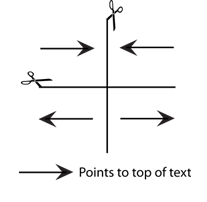 I cut a slit in my design paper and stamped the text on the backside of my paper and then smudged it with distress ink.  See my diagram for text orientation — the arrows point to where the top of the text of the stamp should be.  I used a stampamajig for alignment and stamped the text four times. Then when I curled each edge up, I had a finished look.  To hide the edges of the cut I made, I centered it all within the circle of Spellbinders Heart Circles hollowed out using Spellbinders Standard Circles LG.  I ran a border across bottom of the card and tied a Peg Bow.  It's made just the same as the double bow I did with my Peg Bow Maker  however I wrapped one additional time.  Since there were so many layers to work with, I adjusted each loop while the bow was still on the pegs.
My card size is 5½" x 7½".  That's one of my favorite sizes because it gives me room to work and I have envelopes that fit that size.  Many people ask how I get a card base that is 15″.  Well, that leads me into today's Becca Bit.    This technique will work with any card size especially when you want to economize on  paper.  So have a look and see if this will work for you and your favorite card size!
By the way, we have all our winners for the Blogaversary!!  Thanks so much for participating!!  You, the readers, make Amazing Paper Grace everything it is and hopefully a fun place to be!!  Thank you again!!