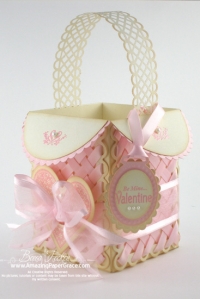 I know, finally, right?  Here is a guide for making the base of the Lattice basket.  If you're not familiar with the basket, you can click HERE to see my product list as well as a step by step tutorial on how to weave the side panels.
I did not do a separate video because trust me this basket base is very easy.  For the Cliff Notes, all you need is two pieces of cards stock.  Score as indicated on the template, then take a round object like Spellbinders Standard Circles LG or a template of a circle that you make and trace the basket flaps.  Then cut everywhere the red lines indicate.
To assemble, place glue on both of the areas called Side Tab.  Lay both pieces of paper side by side and overlap on one of the side tabs to combine both pieces.  Then adhere the remaining Side Tab to the remaining open straight edge.  Fold in all the bottom tabs and glue generously for a sturdy basket bottom.  Fold out each of the rounded basket flaps.
At whatever length you prefer, fashion a handle using a strip of cardstock and border punches of your choice.   I've used a Martha Stewart border punch for mine; ribbon is another alternative.  Secure to using glue or brads to opposite sides of the basket.
If you have done lace panels they are simply adhered to each side of the basket to decorate!!  In addition under each flap on the basket I gued a Spellbinders Petite Scalloped Circle LG just to add a little interest!!
Tip for downloading:  This form is an Adobe PDF.  Adobe Reader is a free version of the program that will allow you to view the file and it can be downloaded HERE.  Several people have contacted me to say they get an error that the file is not there.  You have to have a .pdf reader first before you can download the file.  I've retested all my downloads and am able to get them with no problem using Firefox.  I'll keep trying to find a fix for the 404 error that several are receiving.