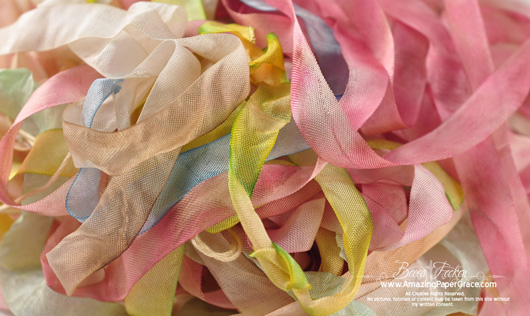 I procrastinated custom coloring my own seam binding until I realized, I could do it my frugal way and have a custom color, ready to go on a card in about 5 minutes.    Oh, the best thing about it was that I used what I already have, in fact, I used some of the things in my studio that have been begging for me to justify their original purchase.    You know how that goes, lol!!  In fact, I can't think of a more frugal way to expand your ribbon collection without having to run to the store!
When seam binding hit the scene and people were custom coloring it with various dyes I thought, that's not for me.   Oh yes, I had the basic seam binding colors because it's inexpensive and lasts forever, but banish the thought of making my own.  I don't like to get stains on my fingers plus I'm a tad impatient – waiting all night for it to dry was not for me.  Plus I thought, don't I have enough ribbon colors? (note I said colors, not ribbon, lol!)  That's the dialogue that played through my head until one day I did need a custom color.  Oh my, it was like pulling teeth.  Well, there's no turning back now.

So take a peek and see why I've become such a fan of custom colored seam binding – you won't believe how easy it is.  So many of you have had questions about this and what it is, so I took a break to whip up a video for you.  (By the way, the rose colored piece of ribbon on the right side in the picture above is the piece I dyed in the video.  Youtube and my video camera just don't catch the vibrant color but you can see it here.  It's one of my favorite colors!)

Thanks for peeking in today!!