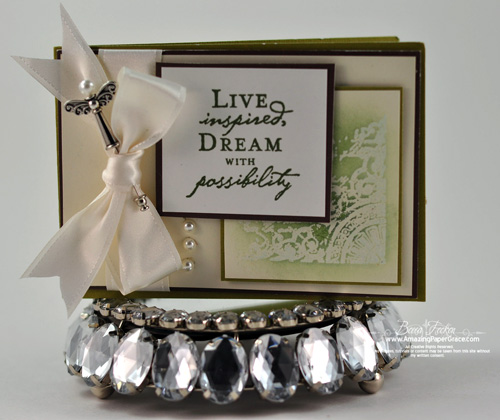 …gets his wings.   Hi there blog friends!   Today, a change of pace for me.   I have not done a Becca Bit in quite some time so today I have one to share.  You haven't seen this card, it's one I made at a club meeting so I pulled it out of my stash so that I could actually have something to set my Angel Pin on to show.  So, why make this a Becca Bit?   There are questions that I get over and over again, which to me means I really do need to supply some more info.  The question that I get all the time is about the stick pins that I use – what are the supplies and where do I get them.  Recently I made a Pretties Kit for a friend of mine and included some of the basic stuff to have on hand to make pearly pins and boy, oh boy, did the questions come flowing in!
A week or two ago metal findings were on sale at Hobby Lobby so I put them on my list  to stock up on and to see if I could find something different.  I found these sweet, sweet angel wings.  I was puzzled what I might do with them until I found some cones and it struck me that I could put them together for an icon to represent an angel.  (Click on the thumbnails to see picture at regular size).

See all the variations you can make using different supplies?
One of the most frequently asked questions is where to get the pins.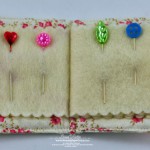 These pins are from Joann's, from the notions section.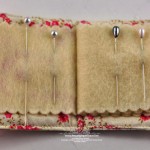 The three pins on the right are from Michaels or Hobby Lobby found in the wedding section. Be sure you take a coupon – they are called corsage pins and they are pricey – $5.99 – $7.99. The pin on the left came from Joann's and is extra long – I love these. Whisper (I don't know why but they are cheaper, $2.99 – $3.99, and they are sooo long. They can be found in the floral section – not the wedding section).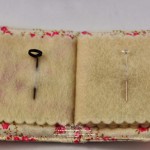 Here, a Tim Holtz Pin, bent to make a halo and a Making Memories Pin.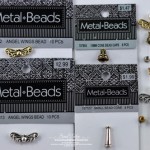 Lastly, here are the supplies I used to make the Angel Pins (purchased at Hobby Lobby – on sale at half price, of course). Please note that the bottom of the pin is simply an earring backings. All these things are inexpensively found at your local craft store and will give you supplies to last for a while or make a gift kit for friends :-)
Hope you enjoyed these tidbits.  See you soon!!