Oh blog friends, I had not intended to be gone for so long but I've been so busy behind the scenes.  Today I have a Becca Bit for you and some news – in fact, I hope we can make it a date!!  As you know every June/July new craft products start to roll out in anticipation of CHA.  That's when I get kind of quiet with the new things I'm designing behind the scenes.  Well, it's time again for Blog Frenzy and I'm so excited!!!  It starts on June 21st which is tomorrow but I can just tell you this little secret, I'm in Central Time Zone so my post will go live tonite at 11pm.  There are tons of new die templates to see and the contest is going to be awesome this go around!!  So, please come back around midnight so that you can get your name in the drawing and be prepared to be totally enabled!!
Now, on to a Becca Bit I've been trying to share for a while.  Since I've managed to collect all the Distress Inks, I was so intrigued by the nibs you can use to apply color.  Once I got rolling with it, I decided to get enough nibs for one per color and of course I needed some way to store them.  Just recently I purchased the nib holder to go along with the nibs and I really like this set up.  I simply used one of my clear cases and cut clear acetate to fit into both sides of the case and put a piece of double sided tape down the front on top of the acetate.  On the underside of the acetate I put listing of the colors with enough space in between each that the nib could be stored with the color.  I have a piece of wax paper that is cut to size – when I close the case, I simiply lay the wax paper in so that none of the nibs touch, if they are still a little moist they won't affect each other and to keep the tape on one side from sticking to another.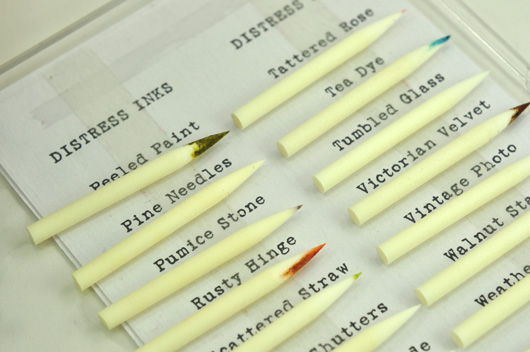 This is a card I did several months ago that was colored using the nibs – I love the control and the way the nib handles the pigment from the reinker so I thought I'd share.  You can find the original post for the card along with the product list HERE.

Thanks so much for stopping by, I'm so eager to hear what you think of what I have to show tomorrow!!