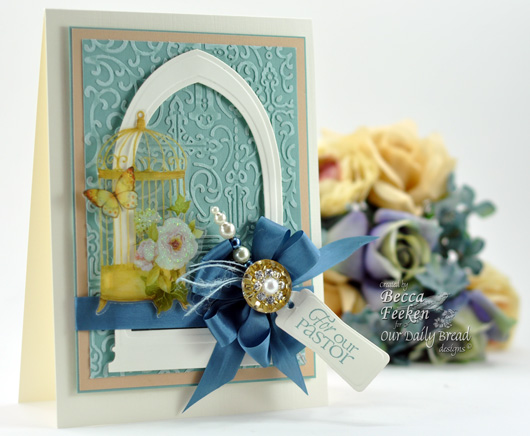 Finally!  Actually that was a couple of days ago, but I think it took me all week to get over the drive.  Seriously, I just unpacked the car earlier today and have been working on some deadlines.  In the meantime, I just wanted to say how much I missed posting and chatting with you.  From my last card I noticed there were lots of (unexpected) questions about the bird and the flourish I used – in fact there was a little guessing lottery going on in the comments.  Wait no more!  You all know my love for K and Company papers and embellishments  . . . so, both the bird and the flourish were some acetate embellishments from a K & Company packet that I picked up at Michaels.   The artist is Susan Winget; there are 40 acetate and paper adornments in the package and I simply fell head over heels – just the perfect thing to layer on when you need a quick card.  I didn't have many supplies available to me while gone, so these certainly fit the bill.  In fact, the birdcage on my card today is another example of one of the acetates.  Mystery solved!!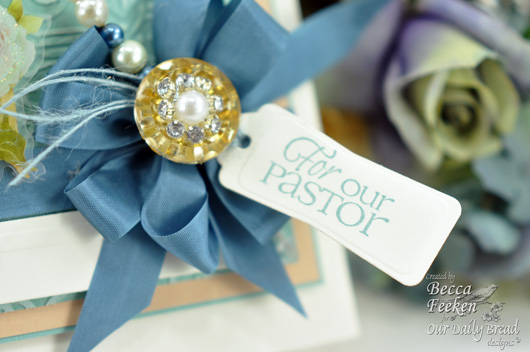 I pulled together a quick card using Spellbinders™ Arched Window One with the new crosses background from Spellbinders™ Reverence M-Bossabilities Folder – Side B.  This is another for my slightly depleted stash.  I stamped "For Our Pastor" from an Our Daily Bread Designs set called Fellowship Sentiments – it fit perfectly on the new Spellbinders™ Framed Tags One.
Thanks so much for your patience while I was out of pocket.  Happy Crafting!!