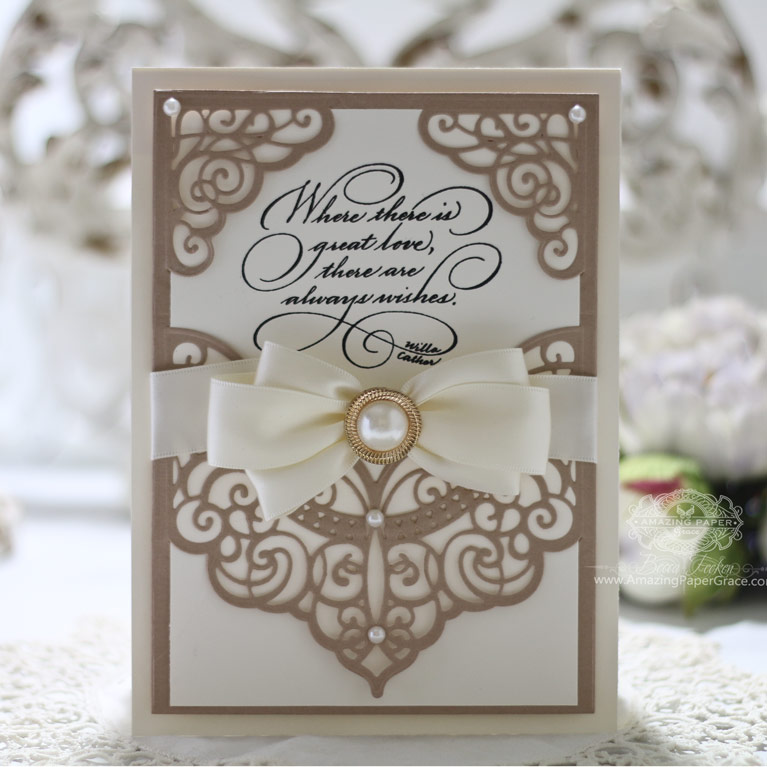 Hi sweet friends – what comes once a month and has me antsy all month long?  Another Die of the Month, that's what.  This month I am sharing – a die called Lace Finery Slip In Card, it's the Amazing Paper Grace January 2019 Die of the Month.
(Note:  Thank you friends if you have answered my Questionnaire this week – the contact forms are rolling in and what you are telling me is music to my ears!  If you have not visited my blog lately, I have a special request at the end of my post).
Inspiration for this Month's Die
I kind of found myself looking for a different kind of challenge that would allow me to design many things with one die.  Many of you had written asking me to release some premier dies on a slow schedule so they could be purchased one by one.  Well, that's the Die of the Month program.  Do not worry if it is not in your budget – that happens.  I still have other dies and collections – but this one allows you to get multifunctional dies that are classic and should be in style for some time to come.  I get this question all the time, so let me say they become available one at a time and when they are sold – they are not reordered.
The January "Lace Finery" Die is one of my favorites.  I can't tell you how fun it was to put this together and dream of what you would do with it.   Believe me, I don't have to go far to get to second and third favorite, but this one — this one is quintessentially me!  I wanted a die that you could cut apart and use the pieces — um, or not.  If you want nothing more than to have four tuck in corners for a frame to put a pretty picture in or sentiment – then this is your die.  If the princess look is right for the occasion then, this one can be configured that way.   I even combined two motifs to make one delicate card front motif.
I made a video to show you how easy it is to use the "slip in" feature:
Lace Finery Slip In Card Samples
And there you have it!!  Pop over to the Spellbinders Blog to ——>THIS POST <——– to have a look at more pictures for some Lace Finery inspiration!  Also, there is a quick walkthrough of how to do the card above.   I'm so blessed to get feedback from you all here on my blog all the time.  If it tickles your fancy – please leave a comment on their blog.


So here's the scoop . . . . I've been a little bit out of touch due to a pretty aggressive design schedule.  As a result, I'm getting back in the saddle here on the blog and in video land and need your help.  I've learned that those who visit here are not necessarily the same readers who live on Instagram or Facebook.  I'm heading back to my roots here and need some honest feedback.  If you have a second, privately leave your answers in my contact form at the top right of the blog.  Here goes…
Questionnaire
Many years ago I did a questionnaire at the end of the year that I asked you to submit your answers through my contact form.  I'm doing that again because it gave me so much insight as to why you stop here.  I would be so honored to hear your thoughts – they will help me set my course for 2019.
Please submit through the contact form at the top right of the blog.  Answer all or answer any or just send a private note – here's what I want to know….
How long have you been a reader?
What brings you back?
What do you miss most that I've moved away from?
Other than videos, what am I not doing that you would like to see me do?
Are you on Instagram – Yes or No
Do you have a digital die cutter – Yes or No
Do you have other crafts do you love?


Thank you for being there for me throughout the years.  I'm bowled over and touched by everyone who has responded to my request.  It may take me some time but I'll read them.  So tickled to see so many familiar names.  I can't wait to know more of you!!