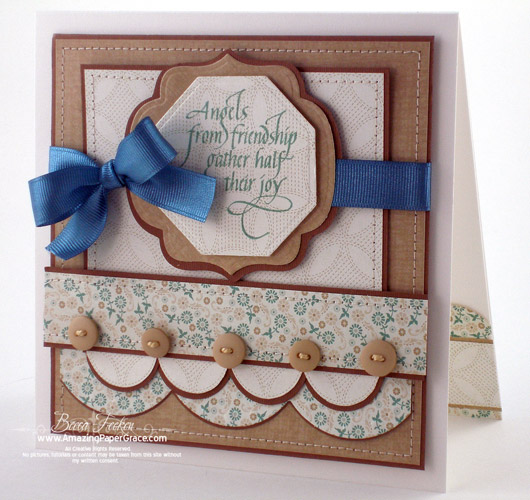 Happy Mother's Day!! I'm sitting back after the wonderful meal and flowers my family treated me too. There is nothing like the queen treatment!! I have a card to share that I worked on last night. My last card was done under the influence of a migraine and I'm so happy to say that the clouds have cleared. My card today uses a verse from Quietfire Design called Angels from Friendship that I simply love! I paired it up with some new paper that I purchased this week called Linen from DieCuts With a View. I don't know if it's old or new but it had to come home with me, lol! I just love the woven look of the paper and many of the designs look like quilt patterns.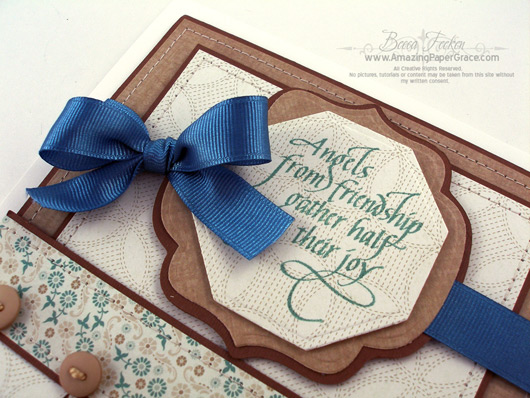 My inspiration was the rounded quilting pattern with the rounded motifs. I cut one edge of the paper out and backed each scallop with a round punch. Then I used my Spellbinders Jumbo Scallops for repetition. Up top I pulled out two shapes that I've neglected – Octagons and Labels Nine. I don't always sew on cards, but this one called for it (*wink*).
By the way, my counter clicked over to a new milestone this weekend. Unless you all object, this tells me it's time for a huge celebration – look for candy this week. I'm dreaming up a different kind of game to play – heaven only knows what I'll come up with. Stay tuned.
Be back soon!