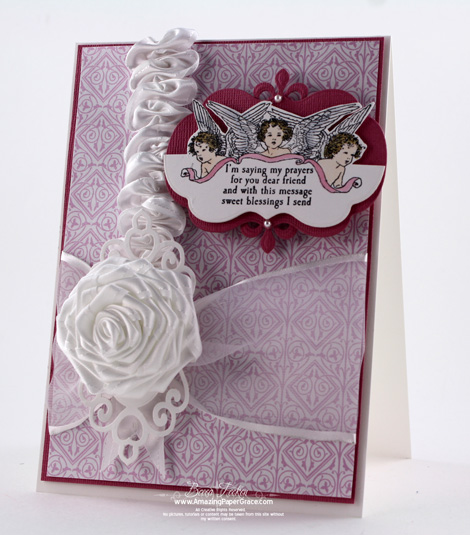 Hi there friends, I went a little bit CAS (or my version of CAS) on you today.   I wanted to do a something that I could showcase with some ruching so I kept things pretty simple.  I do love the look of the ruching though and have a tutorial at the end of this post.    I'm using a sweet set of stamps from Crafty Secrets called Angel Blessings.  It's a pretty large set that contains these sweet little cherubs and the sentiment that I stamped right under them!!
I ran my ruching up and down the card and sheer ribbon horizontally while I centered a turned rose on top of Spellbinders Fancy Tags Two.  For the main focal panel I cut Spellbinders Labels Fourteen and backed it with an element from Spellbinders Fleur de Lis Doily Accents.  After cutting out most of the image, I finished off the bottom edge with Labels Fourteen.
Here's a picture from straight on so that you can see all the elements.