I'm back with another sample from the new releases at Our Daily Bread Designs; this sentiment is taken from the Footprint in the Sand set. Be sure you hop over to Our Daily Bread Designs to see the other four amazing sets that were released with this one. These sets afford you a phenomenal collection of images and sentiments, of which many are scripture, to craft a card for any occasion and at the same time illuminate the beauty of God's Grace.
The circle and punch is much like the Cutting Circles with Corner Punches technique featured on this card and the tutorial on how to do the technique here. The difference is that instead of using a corner punch, I used a regular punch – I'll have to warn you it was a little bit more difficult. Keeping things lined up while trying to hold the punch was a challenge – you can see that one of the crosses is a little bit off. Instead of punching between my guidelines on the back of my circle, I punched on the lines, and this made lining everything up a little simpler. Seeing the video will allow my explanation to make sense.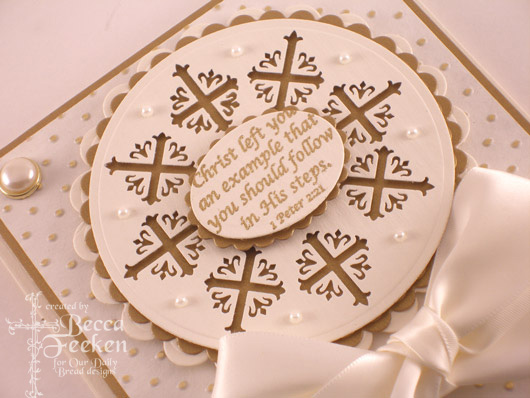 For reference, the card is 5¼" wide by 6" tall. The circle punched with crosses is 3¾" in diameter and uses the Standard Circle Large Nestability. For further reference you can see the (unofficial) sizes for all the Nestability lines here.
Supplies:
Stamps: Our Daily Bread Designs – Footprints in the Sand
Paper: The Paper Company, Gold, Blonde Columns, Dotted Gold
Ink: Versamark and Gold Embossing Powder
Accessories: Nestabilities, Cross Punch – All Night Media/Anna Griffin, Pearl Brads, Pearls, Ribbon
As always, thank you for stopping by. It really makes my day!