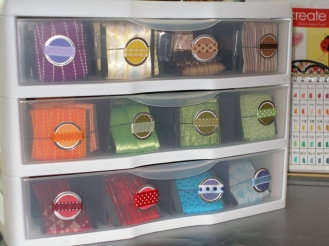 Can I tell you that I am a ribbon-aholic?  I don't know what it is, but when I see it, I just have to have more.  Even worse when I'm working on a project I don't always feel like I have just the right ribbon.  Yup,…never fear, I'll just get more.  Then, just how to store it?  Well, I have tried everything….rain gutters, tossing all in a big jar, ribbon rolls on cafe rods…and I found that my collection was just too unwieldy.  After thinking about, I decided that it's the round rolls that make up all the bulk so I took the plunge and decided to get rid of that bulk.
To begin I purchased one of these three drawer units from Michaels for around $10.00, a package of small black hair rubber bands and purchased a sheet of mat board which I cut down into pieces measuring 2.5″ wide by 2″ high.  I decided on the matboard because I found cardboard bobbins you can purchase at the craft store to be too small and too flimsy.  I divided the drawers into four sections by putting in three 13″ pieces of matboard and anchoring them with tape.  I rolled all my ribbon that were lengths of 5 yards and less onto the bobbins that I had cut.  Now, just a warning, the rolling of the ribbon takes a little bit of time.  I saved it by rolling when I was watching TV and even carried a small bag of ribbon and bobbins in the car to roll while I was waiting in the car or at the doctor office.
But here's the thing…..it's amazing the amount of ribbon one three drawer unit will store!  In the picture below, 1 drawer can hold 140 rolls of ribbon; this particular unit is storing more than 400 rolls of ribbon!!  I love this storage because I can pull a drawer or the entire unit and set it on the edge of my workspace
Here are the drawers opened up to show how easy it is to pack and stack the ribbons inside the drawer.
Here is what one of the individual bobbins looks like.  It is simply a piece of matboard cut to 2.5″ x 2″ secured with a rubber band.
I have three of these units all together.  The top drawers are devoted to my American Crafts Ribbons.  Those are not stored on bobbins.  The rolls are smaller and since they come packaged in sets of six, I wanted to keep each mini palette together (shown below).
Even storing the American Crafts as full ribbons, I can get a whopping 88 rolls in one drawer!
I think this system will keep me for a while, I have a little bit of room to grow in each drawer and I can stack another unit on top if needed.  I also wanted to show a picture of the system that I'm leaving behind. 


Although it was portable, it was still too bulky for me.  Each unit was capable of storing around 80 rolls of ribbon but when  I got everything loaded I had 5 containers and over 400 rolls and it still felt a little bit too unwieldy.  It would work for someone with a smaller ribbon collection.
I hope this helps someone….it took me loads of time to brainstorm what I wanted to do and I'm really pleased with the results.