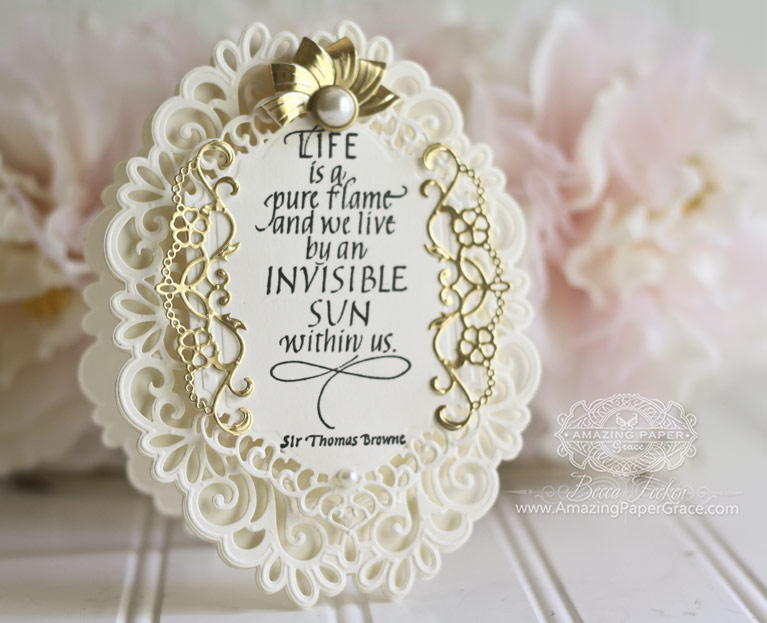 Hi there card makers!  Today is part two of what I blogged about yesterday – tone on tone.  I mentioned that when I need a beautiful polished card and I need it relatively quickly and I'm simply overwhelmed with color choices, I go for tone on tone.  In this kind of card, depth and texture are the hero!  They take over to give the visual interest instead of color.  So, the next step up over tone on tone is to add small accents that  pop – my color of choice is gold or silver.   (By the way I purchase my gold foil paper at Hobby Lobby in the art department – it's metallic).  A week or so ago it was on sale for $0.50 per sheet for the poster board size – of course I stocked up!!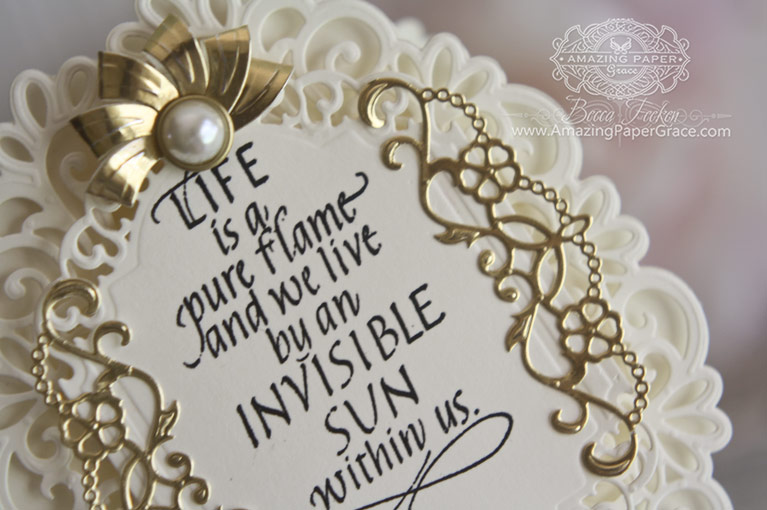 Walk Through on How to Make Card

Base
So for today's card again I made a shaped base using the outline die in the Spellbinders Heirloom Oval set.  You can make a card base by cutting one whole outline and then cutting another whole outline with a piece of card stock that has been folded one inch from the top and the fold seated inside the cutlines – this will make a flap (video on how – HERE).  These two pieces are then glued together to make the shaped base.  On top of that I add another panel cut from the Spellbinders Heirloom Oval set using the outline, the filigree and the inside lip of the die set.  Behind this panel I stack two layers of foam tape cut into smallish slivers so you can't see them from the front – this gives lovely depth.
Focal Panel
The focal panel is cut from Spellbinders A2 Divine Eloquence.  I need this panel to over slightly above the other floating layer.  I stack four layers of foam tape to get that elevation.  I know that four sounds like a lot but the layer under it is a frame so I'm anchoring to the base of the card.
Embellishment
Simple, simple, simple!  As a contrast to the all the other lines going on with this card, the swirls from Spellbinders Corners and Accents One are perfect.  I simply cut two from gold, trim off one protruding curl and glue onto my panel so that most of the embellishment is over top of the panel.  Last, curly flair at the top is made with Spellbinders Stack and Fan Flowers – it's a series of swags that you stack on a brad and curl over to make flowers however in this case I made half a flower and used a large pearl brad to draw the eye in to the center of the card.


Rubber Stamps: Quietfire Design – Life is a Pure Flame
Craft Paper: Neenah Classic Crest – Natural White – 80lb Smooth, The Fine Touch Metallic Poster Board
Ink:  Versafine Onyx Black, Ranger Super Fine Detail Embossing Powder
Accessories: Spellbinders Corners and Accents One, Spellbinders A2 Divine Eloquence, Spellbinders Heirloom Oval, Spellbinders Stack and Fan Flowers, Recollection Pearls, Pearl Brad


That's it for today friends!  I hope you're playing with tone on tone – it's quick and easy and you can always take things up a notch with an accent or two!  I'll be back soon!