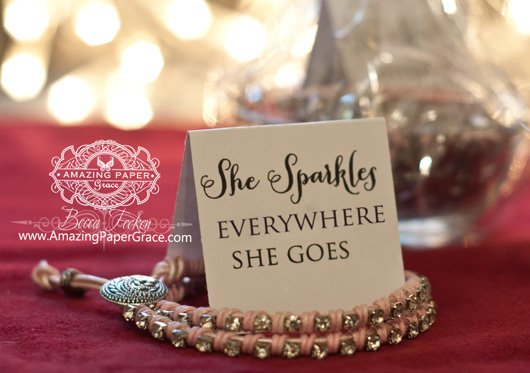 Well, okay then.  So many of you were curious about the bracelets I made that I thought I would change up and include a post here about my real world gift giving :-)  I attempted to take pictures before these were whisked off to my party last weekend but I didn't think they were blog worthy, so I discarded the the pictures.  Back into the trash bin on my computer to find something to give you an idea of what I made.  So here is a picture in my dining room as I wrapped the gifts.
First of all the bracelets are made with leather and cup chain and wrapped with waxed cotton cord; I learned to make this bracelet at Spellbound 3.  I have to admit that at first I didn't think this was my style until I put it on and felt the sparkle!  These bracelets are so trendy right now and combined with the fact that they are so simple to make, they passed my test for "can I persevere through twelve of them??"  I was delighted when I went to my local beading store for supplies, and she had her own version, so I altered mine to be a combination of  what I learned and several that I had seen online – here's a step by step tutorial published online so that you can see what was involved with this quick project – http://www.dummies.com/how-to/content/how-to-make-a-rhinestone-and-leather-wrap-bracelet.html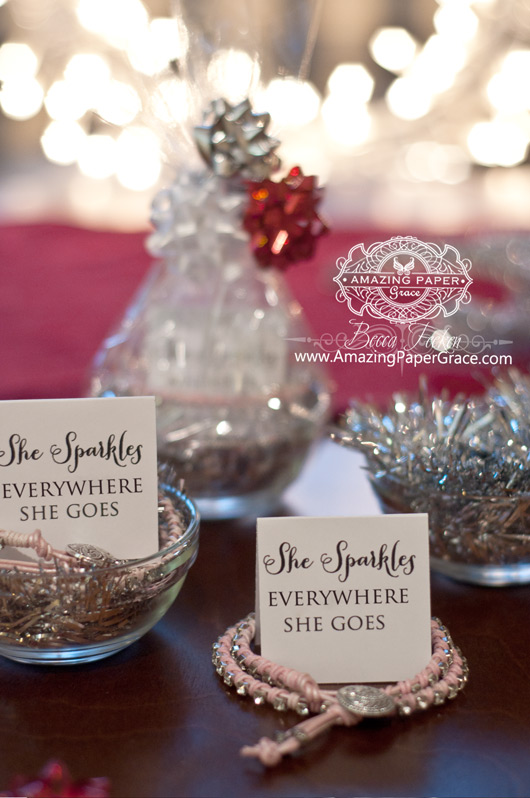 So how to package these without having to spend a ton of money?  I went to the Dollar Tree and found these little glass bowl packaged four for a $1.00.  Off to Walmart to buy tinsel garland to serve as the bed to put the bracelets on for $.99.  Off to Joanns for Wilton 4″ x 9.5″ Clear Cellophane Party Bags – for 25 they were $1.99.  Around the aisle at Walmart for mini-bows @$.99.  I printed off  "She Sparkles Everywhere She Goes" (that just makes me smile) and included it as a little card that holds the bracelet in place.   I slipped the little bowls each inside a cellophane bag and secured with a twisty tie while punching 1″ circles from silver glitter paper to include as a tag.
Lol, I hadn't planned to share, but since you asked…. Just a little peek into the craftiness that goes along with the cards I make.  These women have been friends for many years and they have such sweet crafty souls – indeed they sparkle everywhere they go!  We do all this not because we're picking up another hobby (necessarily) but because ya have to make something to go "with" the card, right?  Thanks for asking about my crafty endeavors, I loving sharing with you all and will see you soon!!
Becky Green on Comment #10 asked how the bracelets fasten – yep, it's the button.  It pretty much has to be a shank button but it makes for a nice closure and I have lots of them in my stash ;-)