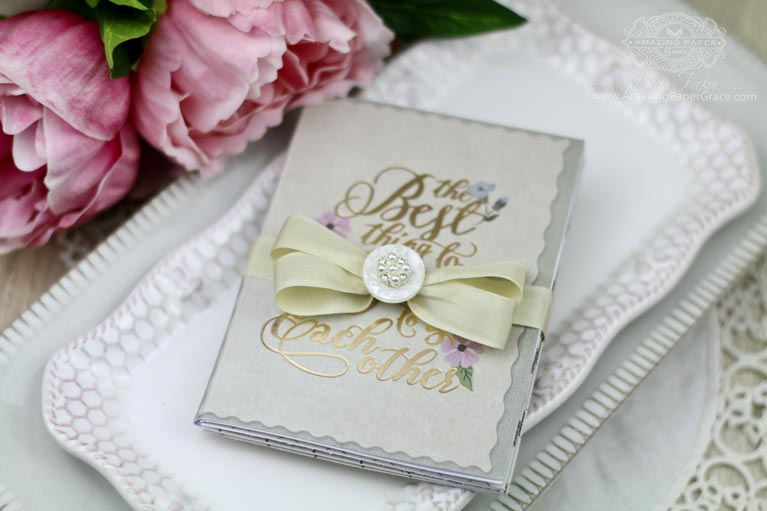 Wanna know the kind of project I love?  The one I can finish, lol!!  I love quilting and cross stitch and sewing and even scrapbooking but with a closet full of UFO's (UnFinished Objects), I've gotten smart over the years and tend to pick things that always keep a light at the end of the tunnel.  I've actually never made a huge scrapbook, but love mini albums.  Today, I'm showing you what I call a micro album.  I can make it in 30 minutes and it's made to be small – so that it will definitely get filled.  The Swirl Booklet Insert is a die I designed for this purpose and I thought I would explain exactly how I'm going to use it.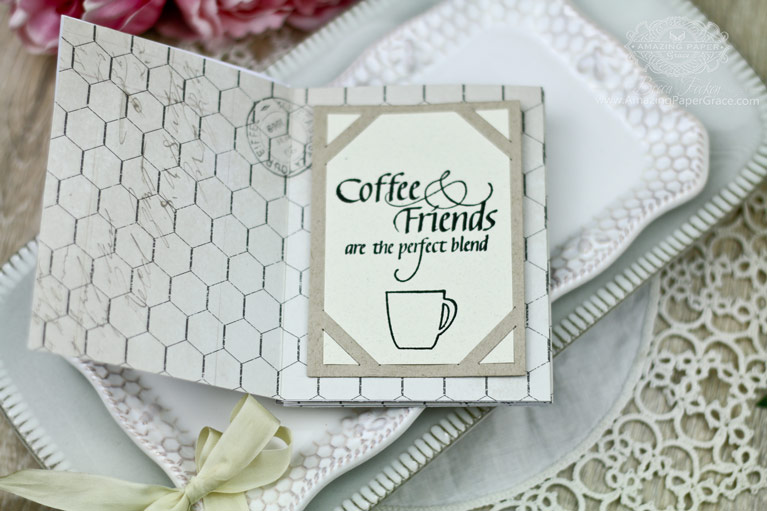 I love meeting up with a friend over a meal or tea or coffee.  In fact, I have one of those get-togethers coming up!!  Since we haven't seen each other in a while I thought it would be fun to send my friend away with a 'micro album'.  When I designed the die, I designed it to fit the Filigree Booklet Die but also designed it to hold gift cards and to hold Instax Mini Pictures.  So, I have one of these little Instax Mini Cameras that take those instant pictures that develop in a couple of minutes.  No getting home and getting onto the computer to print – nope, you have them instantly.
About My Micro Album
My micro album has three pages you can turn, as well as the inside front cover and inside back cover.  That gives me 8 surfaces that I can add pictures to or write notes.  I'm only going to use seven of those surfaces and the first one on the first page has a sentiment from a new set by Quietfire Design – But First Coffee, that is perfect!!  During our get together, I'll have enough film to get several pictures of us, perhaps one of our surroundings and of course, whatever we're drinking or nibbling on.
What's the best thing?  The best thing is that by the end of the get-together, I can hand her a complete micro album to keep! It will be a great memento, until the next time we  get together.  I'm really thrilled how this turned out :-)  It was great that I could pull out some of my favorite design papers and use them to embellish.
A Pin for you :-))


Stamps: Quietfire Design – But First Coffee
Paper:  Botanical Bliss (Michaels)
Ink:  Versafine Onyx Black
Accessories:  Amazing Paper Grace Dies by Spellbinders, Swirl Booklet Insert, Seam Binding, Buttons


I think there will be many of these in my future :-) Happy creating!