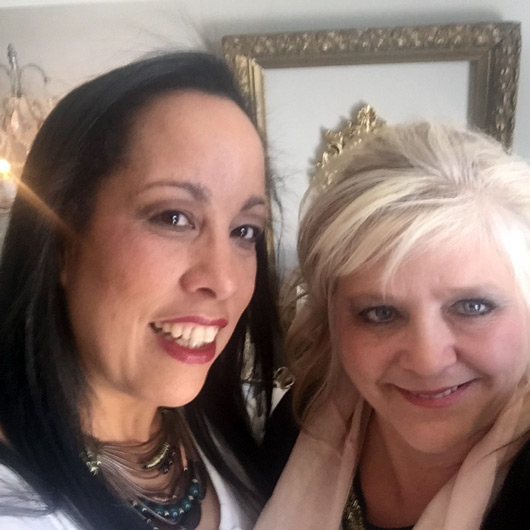 Hi there friends – we're right on the edge of a holiday weekend, the beginning of summer and coming up on a day to savor the memory of our loved ones who served on Monday, Memorial Day.   I wanted to pop in and share a couple of things.  The first thing is as rare as a dinosaur (I'm not kidding) so you'll want to come see – what is it?  Lets just say this is what happens when creative minds come together.
Anyone who knows me knows I'm not a selfie person, so I only let her snap one picture. I'm just not photogenic and am much more at home behind the camera – but what a great opportunity to spend some creative time!  Last month I was so busy with the roller coaster of life that I didn't get to share this picture.  You'll recognize her – Stacey Caron – she's the inventor of Spellbinders and the creative force behind Spellbinders Dies – tools so instrumental in my wonderfully crafty life, and my friend!    As a newly licensed designer we spent a little bit of time on camera together chatting.   Ahem, me on camera in a video?  Check, that's an entry for my "Do Something That Scares You Everyday" journal!
So, HERE is a link that not just a picture or just my hands – it's me in real life even though if you really look you'll see I'm kind of shy but there's no doubt that I'm tickled as punch with where I am right now.
Lots of planning goes into what Spellbinders produces and the dies you see now were conceptualized more than a year ago, in some cases two.  I was amazed at the operation and and even met the folks that pack your orders (and my orders too).  In fact there are a lot of people who work behind the scenes.   I work alone so it was a bonus to me to walk into a place where the creativity is just swirling around in the air. Stacey and I poured over design ideas and well, I came back home with wind in my sails.
So here are a couple of links for you today:
Video with Stacey and Becca
An Amazing Card made by Yvonne Van de Grijp with Spellbinders Swirl Bliss
Stunning Candle and Card Ensemble made by Tina McDonald with Spellbinders Arched Elegance Pocket
Hey, and if you make anything with my dies, drop me an email to let me know – I'd love to see!