Some time ago I asked what kinds of card you wanted to see me attempt. Overwhelmingly the answer came back to see more masculine cards. Well I honestly ran and hid because I did not know where to start. It is said that one often meets their destiny in the road they take to avoid it. There's no doubt that I was avoiding making masculine cards until Our Daily Bread Designs revealed their April Releases. There are two sets that deal with men, mens birthdays and Father's Day called Dad and Happy Father's Day. I think I had myself convinced that a man card could not have a bow . . . I changed my mind. If man can wear a tie or a bow tie – I'm gonna put a bow on his card :-) That's my story and I'm stickin' to it!


I know this is an unconventional card – that's just where my muse went today. I created a background using three Spellbinders™ Mega Ovals LG and matted them using Spellbinders™ Jumbo Scalloped Borderabilities® Petite. For embellishment I used my favorite Spellbinders leaves, Spellbinders™ On the Vine Border Grand. I took my design to the inside this time . . .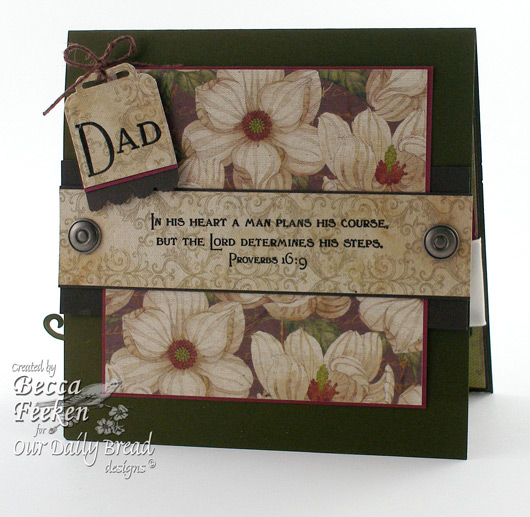 On the inside I fashioned a tag using Spellbinders™ Ribbon Tags Trio Two and added scallops to the bottom. The K & Co paper I selected is rich and earthy and to me, suited to a man, even though it has flowers. I can't wait to get more "men" cards in the works.
Card Recipe:
Stamps: Our Daily Bread Designs: Dad
Paper: Bazzill, K & Company
Ink: Versafine Onyx Black and clear embossing powder
Accessories: Spellbinders™ Mega Ovals LG , Spellbinders™ Jumbo Scalloped Borderabilities® Petite, Spellbinders™ On the Vine Border Grand Spellbinders™ Ribbon Tags Trio Two, Ribbon, Prima Flower , MM Brads