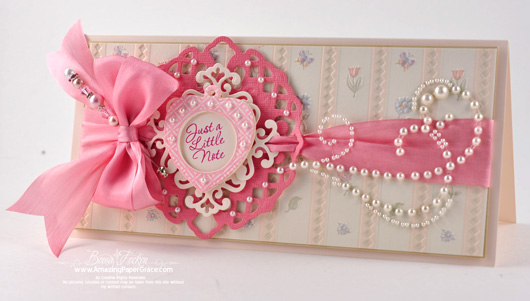 Hi there blog friends!!!  After I got finished with my card today I realized that when looking at the the sentiment, I may have created a little oxymoron, ha…ha.  What started out to be Just a Little Note turned into a blinged up note.  I'm shaking my head – I just didn't think about this when I was in the throes of the pearls.  Kind of like simple elegance, right!?!  I mean is there really an simple elegance?  I know, the places our minds go!  At any rate the cutout heart is from a new set of Charm Dies that were custom made by JustRite.  Oh the possibilities!!  I can forsee making a little locket for a scrapbook page, for a card or to give a little girl with this die template.  This is the first time I've used it, but I know it will become a staple in my "toolbox".  It's just the right size – big enough for a locket or gift tag, but small enough that I could center it on Spellbinders Lattice Pendant for that trendy doily look.   Of course Spellbinders Parisian Accents seem to peek out from underneath a lot of things I make – lots of mileage with that set too.

I don't know if you noticed, but the pattern on that Charm is perfect.  That's because I used the matching stamp set that's drawn to the perfect scale to go with the charm.  Since there are four different charms in the die set there's a JustRite matching stamp set from the Cling Collection to go along with it – so pop on over to the JustRite site and have a look at the Charmed stamp set.
How obvious is it that I got carried away with the pearls, lol!!  I just love them, can't you tell?  I tied a Peg Bow and embellished it with a homemade jewel pick and finshed off with a swirl of pearls.

Not quite finished with my next tutorial, but I may have it this afternoon or tomorrow.  Thinking about going to have coffee with the girls and then back for final touches.  I hope you're doing something spectacular today!!