Hi there!! Today marks another fabulous JustRite Stampers Blog Hop. Today we are sharing gift ideas using JustRite. I have an altered item to share with you today and something that will hopefully come in handy for the crafter. Using JustRite Tiny Words Borders and Centers I created a set of pincushions using canning jars and with JustRite Preserves Borders and Centers I put together a tote to cover and carry them.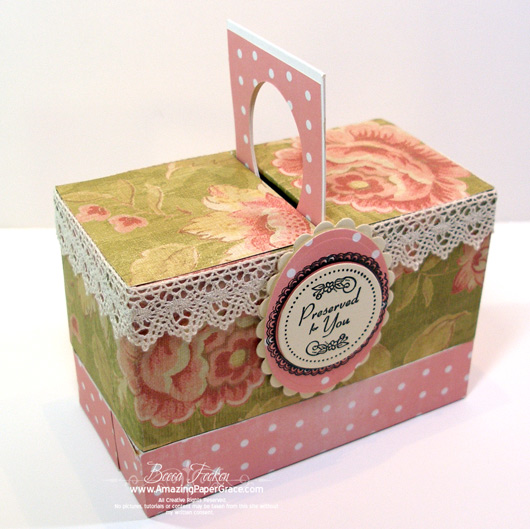 Here is the whole set stored and ready to put away. :-)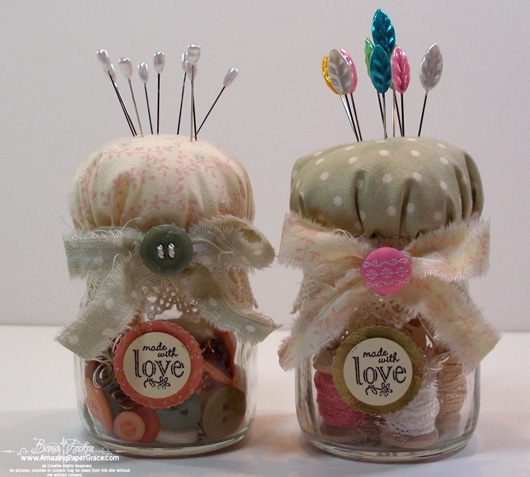 Here are the pincushions themselves, they contain buttons and perle cotton plus pins. They were made using little canning jars I purchased at the Container Store.
Here are the pincushions in their tote around caddy. When finished the lid can just be put over them and back on the shelf they go.
Are you surprised to see a recipe box? The recipe box makes the caddy. This one was purchased for $1.00 at Michaels. I turned it over, covered it with paper then added the handle :-)

Project Recipe:
Stamps: JustRite Tiny Words Borders and Centers, JustRite Preserves Borders and Centers
Paper: K & Co, The Paper Company
Ink: Versafine Onyx Black
Accessories: Spellbinders Classic Scalloped Ovals Large, Spellbinders Classic Ovals Large, Spellbinders Standard Circles Large, Spellbinders Petite Scalloped Circles Small, Fabric (5" circle), two canning jars (mine were Quattro Stagioni – 0,15l), Lace, Recipe Box, Hot Glue Gun, Stuffing, For Inside Containers – Buttons, pins, perle cotton
Be sure to see what the other designers have up their sleeves. You will not want to miss these locations on the hop!
JustRite Blog
Angela Barkhouse
Barb Schram
Becca Feeken (that's me)
Debbie Olson
Heidi Blankenship
Kathy Jones
Kellie Fortin
Lauren Meader
Lisa Somerville
Michele Kovack
Michelle Wooderson
Sharon Harnist
Sharon Johnson
Terre Fry